The Bands of Mourning: A Mistborn Novel (The Mistborn Saga #6) (Paperback)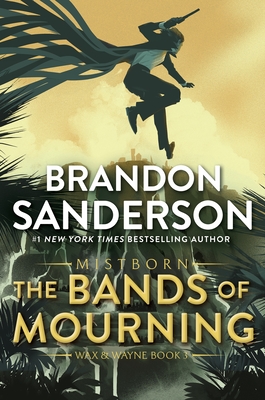 $21.99

Available to order - Usually arrives at our store in 1-5 days
Other Books in Series
This is book number 6 in the The Mistborn Saga series.
Description
---
THE MISTBORN WORLD OF #1 NEW YORK TIMES BESTSELLING AUTHOR BRANDON SANDERSON
EXPANDS ITS HORIZONS WITH A MAGICAL QUEST AND MYSTERIOUS VISITORS FROM THE SOUTH.

The Bands of Mourning are the mythical metalminds once owned by the Lord Ruler, said to grant anyone who wears them the powers that the Lord Ruler had at his command. Hardly anyone thinks they truly exist, but now a kandra researcher has returned to Elendel with images that seem to depict
the Bands, as well as writings in a language that no one can read. Plus another image that shocks Waxillium Ladrian: a photo of his sister, Telsin, being held captive by his uncle, a leader of the shadowy organization known as the Set.

Wax travels south to the city of New Seran to investigate, along with his partner, Wayne, the brilliant Marasi, and the ethically flexible kandra MeLaan. On their journey they find the Set has discovered the wreckage of a mysterious ship miles from any water, and hold prisoner a masked survivor who barely speaks the language. His people and the Set are also hunting the Bands—can they be located before they fall into the wrong hands?

"A fast-paced novel that's part Wild West, part Indiana Jones, and wholly entertaining,
combining high emotional stakes with a deep, good-natured sense of humor." —Kirkus Reviews

Other Tor books by Brandon Sanderson

The Cosmere

The Stormlight Archive
The Way of Kings
Words of Radiance
Edgedancer (Novella)
Oathbringer
Dawnshard (Novella)
Rhythm of War

The Mistborn trilogy
Mistborn: The Final Empire
The Well of Ascension
The Hero of Ages

Mistborn: The Wax and Wayne series
Alloy of Law
Shadows of Self
Bands of Mourning
The Lost Metal

Collection
Arcanum Unbounded

Other Cosmere novels
Elantris
Warbreaker
Tress of the Emerald Sea
Yumi and the Nightmare Painter
The Sunlit Man

The Alcatraz vs. the Evil Librarians series
Alcatraz vs. the Evil Librarians
The Scrivener's Bones
The Knights of Crystallia
The Shattered Lens
The Dark Talent
Bastille vs. the Evil Librarians (co-authored with Janci Patterson)

The Rithmatist series
The Rithmatist

Other novels
Legion: The Many Lives of Stephen Leeds
The Frugal Wizard's Handbook for Surviving Medieval England

Other books by Brandon Sanderson

The Reckoners
Steelheart
Firefight
Calamity
About the Author
---
Brandon Sanderson grew up in Lincoln, Nebraska. He lives in Utah with his wife and children and teaches creative writing at Brigham Young University. His bestsellers have sold 30 million copies worldwide and include the Mistborn® saga; the Stormlight Archive novels; and other novels, including The Rithmatist, Steelheart, and Skyward. He won a Hugo Award for The Emperor's Soul, a novella set in the world of his acclaimed first novel, Elantris. Additionally, he was chosen to complete Robert Jordan's Wheel of Time® sequence. Visit his website for behind-the-scenes information on all his books.