The Last House on Needless Street (Paperback)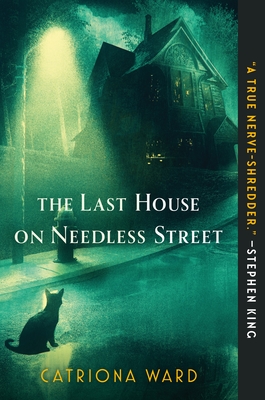 $17.99

Available - On our shelves now
Staff Reviews
---
This is a horror book that will pull you in and won't let you go until long after you finish it. This story has so much heart, empathy and compassion. Not to mention a quirky POV from a very religious cat named Olivia. If you're new to the horror genre, this is a good place to start.
— From
Torrin
October 2021 Indie Next List
---
"I loved this highly original literary horror novel. Ward does an excellent job in portraying the main characters while slowly peeling back the different layers to the story. Highly recommended."
— Robert Connolly, Jabberwocky Bookshop & Cafe, Newburyport, MA
Description
---
"The buzz...is real. I've read it and was blown away. It's a true nerve-shredder that keeps its mind-blowing secrets to the very end." —Stephen King

Named one of the Best Horror Books of All Time (Esquire and Cosmopolitan) • Winner of the British Fantasy Award for Best Horror Novel • An Indie Next Pick • A LibraryReads Top 10 Pick • A Library Journal Editors' Pick

Catriona Ward's The Last House on Needless Street is a shocking and immersive read perfect for fans of Gone Girl and The Haunting of Hill House.

In a boarded-up house on a dead-end street at the edge of the wild Washington woods lives a family of three.

A young girl who isn't allowed outside, not after last time.
A man who drinks alone in front of his TV, trying to ignore the gaps in his memory.
And a house cat who loves napping and reading the Bible.

An unspeakable secret binds them together, but when a new neighbor moves in next door, what is buried out among the birch trees may come back to haunt them all.

"Brilliant....[a] deeply frightening deconstruction of the illusion of the self." —The New York Times
About the Author
---
CATRIONA WARD was born in Washington, DC, and grew up in the United States, Kenya, Madagascar, Yemen, and Morocco. She studied English at the University of Oxford and later earned her master's degree in creative writing at the University of East Anglia. Ward is a three-time winner of the August Derleth Award for Best Horror Novel: for The Girl from Rawblood, her debut; Little Eve; and The Last House on Needless Street. Little Eve also won the Shirley Jackson Award for Best Novel. Ward is the international bestselling author of The Last House on Needless Street and Sundial.
Praise For…
---
A World Fantasy and August Derleth Award Finalist!
An Indie Next Pick! A LibraryReads Top 10 Pick!
A Library Journal Editors' Pick! STARRED reviews from Library Journal and Publishers Weekly!
One of Library Journal's Best Horror Books of 2021.
Named one of the "50 Best Horror Books of All Time" by Esquire!

"A terrifying exploration of human consciousness that excavates character like an ice pick chipping through an ancient glacier: The deeper one goes, the chillier it gets." —The New York Times

"The most powerful narratives in the genre manage to create an unshakable sense of unease, and that's exactly what this novel does ... a must-read for those who like the kind of labyrinthine narratives that pull the rug out from under you, sending you tumbling into a dark, dark room." —NPR

"[P]erhaps the slipperiest psychological study in the annals of horror—a book with secrets as sorrowful as they are appalling." —Esquire

"This masterful horror novel packs an emotional wallop that lingers." —Publishers Weekly, starred review

"A stunning and immersive tale of psychological horror. It's terrifyingly real and physically upsetting, yet, like the best of the genre, it leaves space for hope to ultimately shine through." —Library Journal, starred review

"Full of twists and turns, this high-concept gothic horror is going to be huge." —Guardian

"The buzz building around Catriona Ward's The Last House on Needless Street is real. I've read it and was blown away. It's a true nerve-shredder that keeps its mind-blowing secrets to the very end. Haven't read anything this exciting since Gone Girl." —Stephen King

"Sensational….I can't recall another novel in recent years that dares so much and succeeds so wildly." —A. J. Finn, #1 New York Times bestselling author of The Woman in the Window

"A chilling and beautiful masterpiece of suspense, cunningly plotted and written with the elegant imagination of a Shirley Jackson or a Sarah Waters. I was completely enthralled." —Joe Hill, New York Times bestselling author of The Fireman

"A breathtakingly ambitious book, gorgeously written, and never once shies away from showing you its fangs and its beautiful blood-filled heart. Stop reading this blurb already and open the damn book." —Paul Tremblay, author of A Head Full of Ghosts

"A masterpiece. Beautiful, heartbreaking and quietly uplifting. One of the most powerful and well-executed novels I've read in years." —Alex North, author of The Whisper Man

"Absolutely brilliant. This is extraordinary, high-wire-act horror, audacious as hell." —Christopher Golden, New York Times bestselling author of Red Hands

"Dark and creepy, sad and wonderfully strange. It kept me glued and guessing right up to the end—I loved every inch of it." —Mike Mignola, creator of Hellboy

"Brilliant. Breathtaking. Terrifying. A masterpiece to read at your own peril." —Alma Katsu, author of The Hunger

"A risky, gleeful descent into a house without windows or doors. It's a must-read for horror fans." —Sarah Langan, Bram Stoker Award-winning author of Good Neighbors

"This book was like an onion. Layer after layer after layer and then you're crying and somebody's got a knife. A brutal, twisty, puzzle box of a book. I stayed up way past my bedtime." —T. Kingfisher, author of The Hollow Places

"Ward ably handles the series of nested revelations of the truth about the house's inhabitants and how they connect to Ted's own childhood, all the while maintaining a propulsive, suspenseful tone. Recommended for anyone interested in horror with well-realized characters and a claustrophobic, intense setting." —Booklist

"What did I just read?! One perfect sentence after the other ... this is a story I wish I knew how to write—and I'm thrilled that Ward pulled off this trick of a book." —Rachel Howzell Hall, author of And Now She's Gone

"THIS IS THE BEST HORROR NOVEL I HAVE EVER READ. Even Shirley Jackson, her Majesty, would have to concede to this one." —Natasha Pulley, author of The Watchmaker of Filigree Street

"Books like this don't come around too often... I would say I inhaled this in one, but I think I was too busy holding my breath throughout. Bravo." —Joanne Harris, New York Times bestselling author of The Gospel of Loki

"The new face of literary dark fiction." —Sarah Pinborough, New York Times bestselling author of Behind Her Eyes

"You don't read The Last House on Needless Street—you survive it. This isn't just a thriller; it's a sleek, diabolical, stress-inducing machine." —Jonathan Janz, author of The Siren and the Specter

"It's one eerie mind-bender of a novel in the best way." —Bloody Disgusting

"[A]n immersive, head-shaking, game of a novel that speaks to the horrors of a person's past and how a horrific event can leave people unchanged for the worse." —SFF World

"This is a true page-turner. Just when you think you've figured out what is really going on, you'll probably realize you were wrong." —Book Reporter