The Last Dreamwalker (Paperback)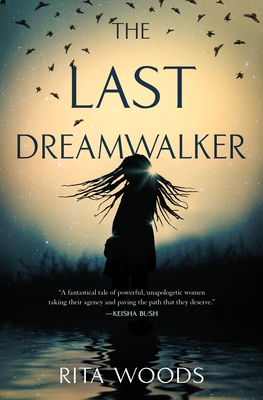 $17.99

Available to order - Usually arrives at our store in 1-5 days
Description
---
From Hurston/Wright Legacy Award-winning author Rita Woods, The Last Dreamwalker tells the story of two women, separated by nearly two centuries yet inextricably linked by the Gullah-Geechee Islands off the coast of South Carolina—and their connection to a mysterious and extraordinary gift passed from generation to generation.

In the wake of her mother's passing, Layla Hurley unexpectedly reconnects with her mother's sisters, women she hasn't been allowed to speak to, or of, in years.

Her aunts reveal to Layla that a Gullah-Geechee island off the shore of South Carolina now belongs to her. As Layla digs deeper into her mother's past and the mysterious island's history, she discovers that the terrifying nightmares that have plagued her throughout her life and tainted her relationship with her mother and all of her family, is actually a power passed down through generations of her Gullah ancestors. She is a Dreamwalker, able to inhabit the dreams of others—and to manipulate them.

As Layla uncovers increasingly dark secrets about her family's past, she finds herself thrust into the center of a potentially deadly, decades-old feud fought in the dark corridor of dreams.

The Last Dreamwalker is a gripping, contemporary read about power and agency; family and legacy; and the ways trauma, secrets, and magic take shape across generations.
About the Author
---
RITA WOODS was born and raised in Detroit, Michigan. She received a BS in Microbiology from Purdue University before graduating from Howard University College of Medicine. She completed her training at Creighton University in Omaha, Nebraska and currently serves as Medical Director of a Wellness Center that provides care for members of one of the largest Trade Unions in the nation.

Rita lives in suburban Chicago with her family, where she also serves as a Trustee on her local library board. She loves magic, books, history, coffee and traveling, not necessarily in that order. She is the author of the award-winning novel, Remembrance.
Praise For…
---
"The Last Dreamwalker will pull you headlong into its perilous world, where three generations of women haunted by history take actions in dreams that can save or doom others in daylight. Like her dreamwalking characters, the talented Woods weaves unforgettable, inescapable magic. A triumph."—Greer Macallister, bestselling author of The Magician's Lie

"The Last Dreamwalker is a powerful tale that asks how we process our inheritances — good, bad, and evil ones alike. Woods is an assured and confident storyteller whose atmospheric and critical prose transports readers from the shores of the Atlantic to the marshes of dreamlands and haunted places. By the end of the novel, one may be asking themselves if they have emerged from the shadows of a dream."—Locus Magazine

"Deeply evocative and clings to you like the humid air of the South. It is a creepy, moving tale in which intergenerational trauma reaches out of dreams and makes the waking world a nightmare. I keep thinking about it."—Mary Robinette Kowal, author of The Calculating Stars

"Vivid descriptions and well-developed characters."—Booklist

"A beautiful and compelling book about the histories we hide and the places we forget. It's about buried truths and dreams too long-deferred, and the hope that comes after."—Alix E. Harrow, New York Times bestselling author of Ten Thousand Doors of January

"Thoroughly entrancing and hauntingly mystical. Rita Woods has woven a deeply complex novel where dreams blur reality and old family secrets torment the waking world. Long after it's finished The Last Dreamwalker will linger in your thoughts as you pull its threads apart to examine the vibrant textures a little more closely."—Heather Webber, USA Today bestselling author of Midnight at the Blackbird Cafe

"Family life is the grounding for a compelling story of strange powers and old secrets."–Kirkus Reviews

"A fascinating novel of a family heritage that is both gift and curse, of the struggle of once-enslaved mystics and their contemporary descendants to command their power, and to take their rightful place in the world. Dr. Woods displays a wonderfully sure hand with her prose, and a delightful mastery of dialect. I love this book both for its voice and its story of a painful history set right."—Louisa Morgan, author of A Secret History of Witches

"I loved this fantastical tale of powerful, unapologetic women taking their agency and paving the path that they deserved."—Keisha Bush, author of No Heaven for Good Boys