Battle of the Linguist Mages (Paperback)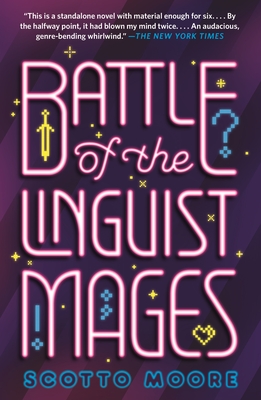 $19.99

Available to order - Usually arrives at our store in 1-5 days
Description
---
"This is a stand-alone novel with material enough for six... By the halfway point, it had blown my mind twice... an audacious, genre-bending whirlwind." —New York Times

"It reads like Snow Crash had a dance-off with Gideon the Ninth, in a world where language isn't a virus from outer space, it's a goddamn alien invasion." —Charles Stross

In modern day Los Angeles, a shadowy faction led by the Governor of California develops the arcane art of combat linguistics, planting the seeds of a future totalitarian empire in Scotto Moore's thrilling Battle of the Linguist Mages.

Isobel is the Queen of the medieval rave-themed VR game Sparkle Dungeon. Her prowess in the game makes her an ideal candidate to learn the secrets of "power morphemes"—unnaturally dense units of meaning that warp perception when skilfully pronounced.

But Isobel's reputation makes her the target of a strange resistance movement led by spellcasting anarchists, who may be the only thing stopping the cabal from toppling California over the edge of a terrible transformation, with forty million lives at stake.

Time is short for Isobel to level up and choose a side—because the cabal has attracted much bigger and weirder enemies than the anarchist resistance, emerging from dark and vicious dimensions of reality and heading straight for planet Earth!
About the Author
---
SCOTTO MOORE is a Seattle playwright, whose works include the black comedy H.P. Lovecraft: Stand-up Comedian!, the sci-fi adventures Duel of the Linguist Mages and interlace [falling star], the gamer-centric romantic comedy Balconies, and the a cappella sci-fi musical, Silhouette. He is the creator of The Coffee Table, a comedic web series about a couple that discovers their new coffee table is an ancient alien artifact that sends their house shooting through the void. He is also behind the popular Lovecraft-themed meme generator, Things That Cannot Save You ("a catalog of your doom"), which spawned his novella, Your Favorite Band Cannot Save You. Moore's debut novel, Battle of the Linguist Mages, was met with widespread critical acclaim, with the New York Times calling it "...an audacious, genre-bending whirlwind."
Praise For…
---
"This is a stand-alone novel with material enough for six... By the halfway point, it had blown my mind twice... an audacious, genre-bending whirlwind." —New York Times

"It reads like Snow Crash had a dance-off with Gideon the Ninth, in a world where language isn't a virus from outer space, it's a goddamn alien invasion." —Charles Stross

"Sparklepunk meets Snow Crash! One of those books that hits you with an amazing new idea every couple of pages, and it makes for a wild ride." —Django Wexler

"A frenetic romp... a whole lot of fun... Glitter-bombed popcorn fiction at its finest." —Kirkus STARRED REVIEW

"A roller coaster of weird in this wildly entertaining gonzo adventure... Readers will love it as much for the outlandish ideas as for the narrative complexity and sense of fun." —Publishers Weekly


More praise for Scotto Moore:

"Scotto Moore understands a key truth about Ziggy Stardust: Rock and roll messiahs are really fucking scary." —Kieron Gillen on Your Favorite Band Cannot Save You

"Absolutely stunning. A fast-paced, psychedelic blur of music, tech, and things way beyond either. I picked it up, and it simply would not let me go until the final page was read." —Ramez Naam on Your Favorite Band Cannot Save You

"Moore writes with a playful jauntiness that buoys the growing darkness rather than undercutting it. His details about a certain subset of music nerds give the story some great texture... the ride is a fun one and the soundtrack is killer." —Locus on Your Favorite Band Cannot Save You

"A wickedly clever amalgam of science fiction, horror, and contemporary music that makes one reconsider whether Ziggy Stardust's arrival here on Earth might not, in fact, be such a good thing... I could have read Your Favorite Band Cannot Save You in one sitting, but I stretched it over two nights because I couldn't bear for it to end... Buy this book." —Elizabeth Hand in The Magazine of Fantasy & Science Fiction on Your Favorite Band Cannot Save You

"A lean, quick read with no fat. The clever, exciting story mixes weird fiction with an engaging and mysterious plot." —Library Journal on Your Favorite Band Cannot Save You