Among Others: A Novel (Paperback)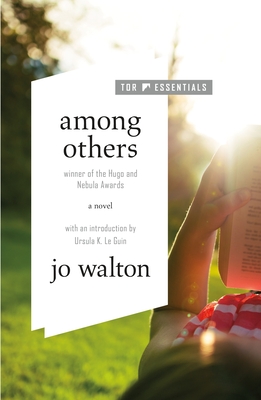 Description
---
Now in a Tor Essentials edition, Jo Walton's Hugo and Nebula Award-winning novel about the power of story to transform our lives.
Winner of the 2011 Nebula Award for Best Novel
Winner of the 2012 Hugo Award for Best Novel
"There are the books you want to give to all your friends, and there are the books you wish you could go back and give your younger self. And then there's the rare book, like Jo Walton's Among Others, that's both." –Charlie Jane Anders
Raised by a half-mad mother who dabbled in magic, Morwenna Phelps found refuge in two worlds. As a child growing up in Wales, she played among the spirits who made their homes in industrial ruins, but her mind found freedom in the science fiction novels that were her closest companions. When her mother tried to bend the spirits to dark ends, Mori was forced to confront her in a magical battle that left her crippled – and her twin sister dead.
Now, having fled to a father she barely knew, Mori is sent to boarding school in England—a place all but devoid of true magic. There, she tempts fate by doing magic herself, in an attempt to find a circle of like-minded friends. But her magic attracts the attention of her broken and malign mother, pulling Morwenna toward a reckoning that will draw on everything she has learned in her years of engagement with stories and books.
"It leapt onto my all-time favorites shelf." –Rainbow Rowell
About the Author
---
Jo Walton won the John W. Campbell Award for Best New Writer on publication of her debut novel The King's Peace. She won the World Fantasy Award in 2004 for Tooth and Claw, and in 2012, the Hugo and Nebula Awards for Among Others. In addition to writing SF and fantasy, she has also designed role-playing games and published poetry. Her song "The Lurkers Support Me In Email" has been quoted innumerable times in online discussions all over the world, frequently without attribution. A native of Wales, she lives in Montreal.

Ursula K. Le Guin (1929-2018) was the author of more than three dozen books for children and adults, including her groundbreaking novels The Left Hand of Darkness and The Dispossessed, both honored with Nebula and Hugo awards for best novel. She was also awarded a Newbury Honor for the second volume of the Earthsea Cycle, The Tombs of Atuan, and among her many other distinctions are the Margaret A. Edwards Award, a National Book Award, and additional Nebula and Hugo awards. Her other books include The Eye of the Heron, The Word for World is Forest, and the Hainish series. In 2014, Le Guin was named the Medalist for Distinguished Contribution to American Letters by the National Book Foundation.