The Scent Keeper: A Novel (Hardcover)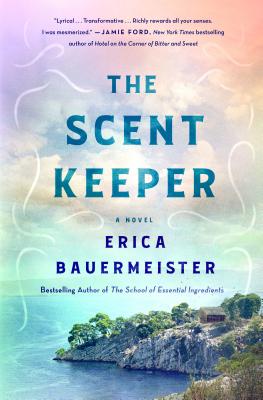 $26.99
Email or call for price
Staff Reviews
---
What an enchanting and beautifully written book, I am still reveling in the smells and the lyrical magic of Erica Bauermeister's writing.
— From
Judy
June 2019 Indie Next List
---
"When you pick up Erica Bauermeister's latest novel, you must take a deep breath, and then another. The Scent Keeper is a unique coming-of-age story told with prose that is vivid, fragrant, and alive. Everything Emmeline knows from her idyllic childhood spent on a remote island in the Pacific Northwest is challenged when she discovers that her father's fantastical explanations and stories aren't true — at least not in a literal sense. Her journey is at times devastating but always evocative. A sensational read."
— Anika Miller, Phinney Books, Seattle, WA
Description
---
Erica Bauermeister, the national bestselling author of The School of Essential Ingredients, presents a moving and evocative coming-of-age novel about childhood stories, families lost and found, and how a fragrance conjures memories capable of shaping the course of our lives.

Emmeline lives an enchanted childhood on a remote island with her father, who teaches her about the natural world through her senses. What he won't explain are the mysterious scents stored in the drawers that line the walls of their cabin, or the origin of the machine that creates them. As Emmeline grows, however, so too does her curiosity, until one day the unforeseen happens, and Emmeline is vaulted out into the real world--a place of love, betrayal, ambition, and revenge. To understand her past, Emmeline must unlock the clues to her identity, a quest that challenges the limits of her heart and imagination.

Lyrical and immersive, The Scent Keeper explores the provocative beauty of scent, the way it can reveal hidden truths, lead us to the person we seek, and even help us find our way back home.
About the Author
---
Erica Bauermeister is the author of the bestselling novel The School of Essential Ingredients, Joy for Beginners, and The Lost Art of Mixing. She is also the co-author of non-fiction works, 500 Great Books by Women: A Reader's Guide and Let's Hear It For the Girls: 375 Great Books for Readers 2-14.

She has a PhD in literature from the University of Washington, and has taught there and at Antioch University. She is a founding member of the Seattle7Writers and currently lives in Port Townsend, Washington.
Praise For…
---
"Told in a lyrical, haunting prose, the story provides fascinating information about the ways in which different fragrances can impact human behavior and the struggles of finding one's own identity. An artfully crafted coming-of-age story that will take the reader on an exquisite olfactory adventure. " - Kirkus

"This coming-of-age story delights the senses, immersing the reader in the sights, sounds, and scents of the
wilderness and city life. Fans of Mary Simses and Jennifer Close will fall in love with Bauermeister's plucky heroine, the layers of family secrets, the lush settings, and the painfully tender relationships." - Booklist

"Woven through [Emmeline's] life's journey is a multi-layered story of fragrance and its evocative power, as strong and tenacious as this sensuous novel's plucky heroine." - Shelf Awareness, Starred Review

"[A] magical novel…Blending fantasy with a realist family drama, Bauermeister's novel will enchant fans of Katherine Paterson." - Publishers Weekly

"For lovers of Chocolat, The Scent Keeper evokes emotion and magic through the senses." –Jennie Shortridge, author of Eating Heaven

"A fascinating, totally original and captivating tale about how the love that separates us is also the love that keeps us together."—M.J. Rose, New York Times bestselling author of The Book of Lost Fragrances

"The author hits it out of the park with the most superb sense of place I've read in a long time. It's a coming of age tale, featuring a young heroine as narrator who makes serious mistakes, learns much from them, and ultimately redeems herself. Beautifully and masterfully written. I highly recommend it." - Elizabeth George, New York Times and international bestselling author

"Bauermeister deftly weaves plot and language into a luminous discovery of love—for another person, for a place, and ultimately for oneself." - Carol Cassella, national bestselling author of Oxygen

"Bauermeister's heroine Emmeline might also be kin to Jane Eyre. Heartbreaking, thrilling, and wonderfully instructive, this sensual novel is pure pleasure reading."—Adrianne Harun, bestselling author of A Man Came Out of A Door in the Mountain

"Some very special books have the power to change the reader--The Scent Keeper is one of those. This is a book to be devoured, no, to be inhaled, and held deeply." - Dave Boling, author of Guernica

"One of the most enchanting, unique books I've ever read." - Anna Quinn, author of The Night Child and owner The Writers' Workshop and Imprint Bookstore