Don't Shed Your Tears for Anyone Who Lives on These Streets: A novel (Paperback)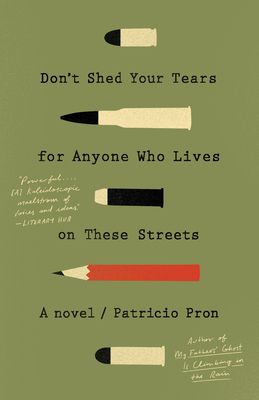 Description
---
Pinerolo, Italy. April 1945. At a fascist conference, a writer disappears and is found dead at the bottom of a cliff. Thirty years later, a young man—a political activist or maybe a terrorist—interviews the survivors to try to uncover the truth about what happened and its consequences. Who was this writer? What did he believe in? Why, shortly before his death, did he save a man who could have killed him? Where is his lost work? And what does any of this have to do with a teenager in contemporary Milan involved in a violent confrontation with the police? Bold and incisive, Don't Shed Your Tears for Anyone Who Lives on These Streets is a gripping examination of art-as-politics and politics-as-crime.
About the Author
---
Patricio Pron, born in 1975, is the author of seven novels and six story collections, and he also works as a translator and critic. His fiction has appeared in Granta, Zoetrope: All-Story, and The Paris Review, and he has received numerous prizes, including the Alfaguara Prize, the Juan Rulfo Prize, the Premio Literario Jaén de Novela award, and the 2008 José Manuel Lara Foundation Award for one of the five best works published in Spain that year. He lives in Madrid.

Translated from the Spanish by Mara Faye Lethem.
Praise For…
---
Praise for Patricio Pron and Don't Shed Your Tears for Anyone Who Lives on These Streets

"This ambitious, challenging work breaks with form and reflects on the psychology of fascism."
—Washington Independent Review of Books
 
"Part suspense novel. . . . Part historical investigation . . . A skillfully constructed exploration of past events that many Italians would just as soon forget."
—Kirkus Reviews (starred review)

"Without a doubt, one of the greatest novels of the last several years. . . . Dazzling." 
—Babelia / El País (Spain)

"[Patricio Pron] probes the thorniest of ontological and epistemological questions, [and] compellingly displays—as well as explores—fiction's power to unearth the most deeply buried emotional truths."
—The Independent (London)
 
"Don't Shed Your Tears for Anyone Who Lives on These Streets is a feast."
—El Cultural (Spain)

"Pron is an immense talent, a daring writer with an absolutely unique voice."
—Daniel Alarcón, author of Lost City Radio

"A book of beauty and substance . . . A huge gift."
—Vozpópuli (Spain)
 
"A decisive achievement . . . Reading this, one feels grateful that books of this quality are still being written."
—ABC Cultural (Spain)

 "An extraordinarily gifted writer."
—KUER radio (Salt Lake City)

"In the wake of authors such as Enrique Vila-Matas or César Aira, Argentine writer Patricio Pron manages to double down on all the literary bets that came before him . . . With his previous work, Pron has more than demonstrated the greatness of his literary project and his talents as a writer; with Don't Shed Your Tears for Anyone Who Lives on These Streets, he is at the pinnacle of Spanish literature."
—El Asombrario & Co. (Spain)
 
"One of the finest novelists writing in Spanish today."
—Alberto Manguel, author of All Men Are Liars
 
"Pron opens his eyes where the rest of us would rather close them and keep them closed."
—Juan Gabriel Vásquez, author of The Informers