Dog Gone: A Lost Pet's Extraordinary Journey and the Family Who Brought Him Home (Paperback)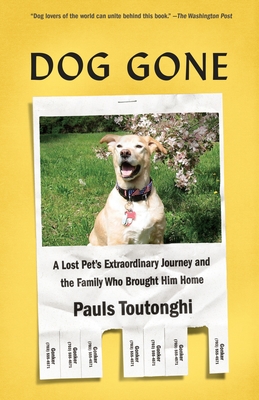 Description
---
The true story of a lost dog's journey and a family's furious search to find him before it is too late.

October 10, 1998. Fielding Marshall is hiking on the Appalachian Trail. His beloved dog—a six-year-old golden retriever mix named Gonker—bolts into the woods. Just like that, he's vanished. And Gonker has Addison's disease. If he's not found in twenty-three days, he will die.

Dog Gone is the story of the Marshall family—Fielding and his parents, John and Virginia—and their epic hunt to track down Gonker. As their search continues, covered by news outlets and drawing in the community at large, old wounds reemerge, threatening to undo the Marshalls. Suspenseful, heartbreaking, and ultimately life-affirming, Dog Gone is a true story about the way heroism can assert itself in the little things we do each day.


About the Author
---
PAULS TOUTONGHI is a first-generation American. He has been awarded a Pushcart Prize, and he has written for The New Yorker, The New York Times, Virginia Quarterly Review, Granta, Tin House, and numerous other periodicals. He lives in Oregon, where he teaches at Lewis & Clark College.
Praise For…
---
"Toutonghi's narrative is well-written and fast-paced. . . . Like a good novel, "Dog Gone" is full of twists that keep the reader engaged until the very end. . . . Don't be surprised if, at the finish of "Dog Gone," you find yourself wanting to rush to an animal rescue shelter. . . . Dog lovers of the world can unite behind this book." —The Washington Post

"Lovely. . . . He'll make you laugh…and he'll evoke your tears. . . . It's a story about the triumph of hope over despair. And a story of persistence, courage, and determination. And in its most profound and universal sense, a love story." —Richmond Times-Dispatch 

"A moving nail-biter." —Good Housekeeping

"A beautifully told story of a lost childhood, and a woman's efforts to make things right with herself, her children, and the world." —The Oregonian

"The story of loss, love and resilience is told by Toutonghi with lots of heart and humor. The book stresses how heroism can assert itself in the little things we do each day." —The News & Observer