Techno-Orientalism: Imagining Asia in Speculative Fiction, History, and Media (Asian American Studies Today) (Paperback)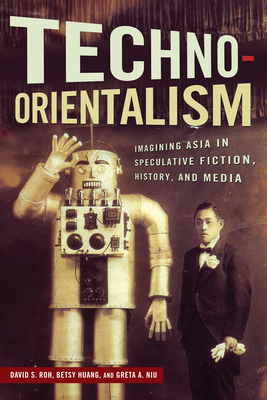 $42.95

Available to order - Usually arrives at our store in 1-5 days
Description
---
What will the future look like? To judge from many speculative fiction films and books, from Blade Runner to Cloud Atlas, the future will be full of cities that resemble Tokyo, Hong Kong, and Shanghai, and it will be populated mainly by cold, unfeeling citizens who act like robots. Techno-Orientalism investigates the phenomenon of imagining Asia and Asians in hypo- or hyper-technological terms in literary, cinematic, and new media representations, while critically examining the stereotype of Asians as both technologically advanced and intellectually primitive, in dire need of Western consciousness-raising.  The collection's fourteen original essays trace the discourse of techno-orientalism across a wide array of media, from radio serials to cyberpunk novels, from Sax Rohmer's Dr. Fu Manchu to Firefly.  Applying a variety of theoretical, historical, and interpretive approaches, the contributors consider techno-orientalism a truly global phenomenon. In part, they tackle the key question of how these stereotypes serve to both express and assuage Western anxieties about Asia's growing cultural influence and economic dominance. Yet the book also examines artists who have appropriated techno-orientalist tropes in order to critique racist and imperialist attitudes.  Techno-Orientalism is the first collection to define and critically analyze a phenomenon that pervades both science fiction and real-world news coverage of Asia. With essays on subjects ranging from wartime rhetoric of race and technology to science fiction by contemporary Asian American writers to the cultural implications of Korean gamers, this volume offers innovative perspectives and broadens conventional discussions in Asian American Cultural studies.    
About the Author
---
DAVID S. ROH is an assistant professor of American literature and digital humanities at Old Dominion University. He is the author of Illegal Literature: Toward a Disruptive Creativity. BETSY HUANG is an associate professor of English and chief officer of Diversity and Inclusion at Clark University. She is the author of Contesting Genres in Contemporary Asian American Fiction.  GRETA A. NIU earned her Ph.D. in English from Duke University and has taught at SUNY Brockport, University of Rochester, and St. John Fisher College.  
Praise For…
---
"Taken as a whole, this collection is a useful addition ot the conversation on techno-orientalism. It should prove of interest to both scholars in Asian and Asian American Studies and those with a beginner's understanding of the subject."
— The Journal of Popular Culture
"Situating itself at the nexus of Asian and Asian American Studies,
Techno-Orientalism
covers an exciting range of topics and draws productive connections between literature, popular culture, technology, and the emergent geopolitics of what has been called the Pacific Century. This collection is a vital contribution to global media and cultural studies."
— Peter Paik
"'Techno-orientalism' is everywhere. This volume demonstrates for the first time that it is an indispensable critical category for contemporary thought. Any attempt to think globalization, neo-liberalism, and the human is incomplete without it."
— Mark C. Jerng
"The editors brilliantly sum up Techno-Orientalism as 'a form of pathology, necessitated by the 'Rising East' rhetoric and rationalized by the neo-liberal logic of (Asian) humans as mortal engines of modernity and economic growth.'"
— Muslim World Book Review
"This anthology usefully introduces an emergent area of Asian American literary and cultural criticism that seeks to bridge what are often separate realms and discourses of analysis: Asian American studies and critical race studies and speculative fiction studies and media studies."  
— Journal of Asian American Studies
"Techno-Orientalism: Imagining Asian Speculative, Fiction, History, and Media is a timely and valuable resource for teaching and studying science fiction."
 
— Science Fiction Studies
"
Techno-Orientalism
is a smart, compelling installment in the 'critical countertechnology'  that we must build in order to resist our own sickness." 
— Extrapolation
"This collection remains vital in an age of magnified surveillance and racialization, and unambiguously establishes that the critique of techno-Orientalism is both imperative and here to stay." 
— Journal of Asian Studies
"What happens when we think of techno- orientalism in places like Pakistan, India, Sri Lanka, Thailand, Laos, Cambodia, Vietnam, or the Philippines? The volume offers its readers an invitation to think precisely about such omissions. If there's something troubling about primarily looking to East Asia for signs of the future, what alternative futures might we be able to imagine if we were to look elsewhere?"
— ALH Online
"As with
Techno-Orientalism
, the conceptual emphasis in The Buddha in the Machine is on considering how racialized ideas about technology are put into circulation, becoming the racial medium for linking together yet other ideas, technologies, and populations, not simply exposing racial ideology as the grounds for cultural production. Particularly impressive is the care with which Williams unfolds stories of reverse-directionality, as represented most clearly by the chapter on the Chinese American writer Lin Yutang's lifelong at- tempt to invent and bring to production a Chinese typewriter." 
— American Literary History
"A valuable addition to the rela- tively scarce body of scholarship on the topic, Techno-Orientalism is a must-read for scholars in Asian American studies, Asian studies, and race/ethnicity studies, and is a rich source of fresh insight for academics in a range of other fields, including cultural studies, literary criticism, media studies, posthuman theory, speculative fiction studies, and postcolonial studies." 
— MELUS
"A dynamite collection...full of tight and intricate arguments that will be of value to Asian Americanists, scholars of speculative fiction, and popular culture."
— The Year's Work in English Studies
"How The Dark Future Of Blade Runner's 2019 Los Angeles Looks In The Light Of Actual Today," by LAist staff
https://laist.com/2019/11/18/blade_runners_2019_los_angeles_then_now_future_past.php
— LAist
"Orientalism, 
Cyberpunk 2077
, and Yellow Peril in Science Fiction: Cyberpunk as a genre, and 
Cyberpunk 2077
 the game, are both rooted in a type of other-ization that can't be ignored—but it can be examined," by George Yang
— Wired
"Techno-orientalism was first coined in Rutgers University
Press' 2015 book 
Techno-Orientalism: Imagining Asia in Speculative Fiction, History, and Media
. Edited by David S. Roh, Betsy Huang and Greta A. Niu, it investigates the phenomenon of how Asia and Asians are represented in hypo- or hyper-technological terms, 'while critically examining the stereotype of Asians as both technologically advanced and intellectually primitive, in dire need of Western consciousness-raising.'"
— The Hollywood Reporter
"?Episode 193: Asian Futures Without Asians"
— Imaginary World podcast
"Where the Future is Asian, and the Asian Are Robots," by Jane Hu
— New Yorker