Apeirogon: A Novel (Paperback)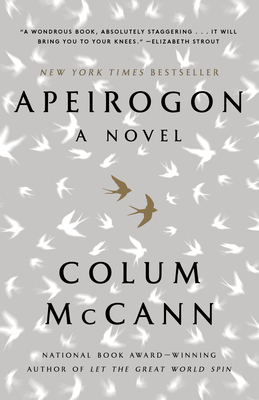 Staff Reviews
---
Sit back and let McCann work his magic. The achingly tender real-life account of Rami and Bassam, Israeli and Palestinian fathers who have lost daughters to senseless violence, but who arrive at a shared position against the occupation of Palestine. Their common desire is peace and justice. They devote their lives to this. But while their story unfolds, McCann weaves all manner of curiosities--Francois Mitterrand's last meal, the Dead Sea scrolls, Philippe Petit--enriching, mind-bending elements that create a tale for our times. Mesmerizing and vibrant.
— From
Wendee
Apeirogon - a shape with a countably infinite number of sides. In this extraordinary hybrid novel McCann craftfully weaves together the stories of an Israeli father and a Palestinian father, joined in grief after they both have lost a daughter in the enduring conflict. He shapes their loss into a breathtaking narrative, splendidly interspersed with incidental details. It is moving and almost impossible to put down.
— From
Krijn
March 2020 Indie Next List
---
"This is a towering, breathtaking, sweeping work of poetic and technical brilliance. Although much of Apeirogon resides in the current and past state of Israeli-Palestinian relations, the novel demonstrates how each person, each story, in this ultimately small section of the world represents but one point of an infinitely sided shape — how between all of us, even those locked in seemingly irreconcilable conflict, there pulses a vital connectivity, a path to understanding, forgiveness, and compassion."
— Ben Newgard, Flyleaf Books, Chapel Hill, NC
Description
---
NEW YORK TIMES BESTSELLER - "A quite extraordinary novel. Colum McCann has found the form and voice to tell the most complex of stories, with an unexpected friendship between two men at its powerfully beating heart."--Kamila Shamsie, author of Home Fire

LONGLISTED FOR THE BOOKER PRIZE - WINNER OF THE NATIONAL JEWISH BOOK AWARD - NAMED ONE OF THE BEST BOOKS OF THE YEAR BY The Independent - The New York Public Library - Library Journal From the National Book Award-winning and bestselling author of Let the Great World Spin comes an epic novel rooted in the unlikely real-life friendship between two fathers. Bassam Aramin is Palestinian. Rami Elhanan is Israeli. They inhabit a world of conflict that colors every aspect of their lives, from the roads they are allowed to drive on to the schools their children attend to the checkpoints, both physical and emotional, they must negotiate. But their lives, however circumscribed, are upended one after the other: first, Rami's thirteen-year-old daughter, Smadar, becomes the victim of suicide bombers; a decade later, Bassam's ten-year-old daughter, Abir, is killed by a rubber bullet. Rami and Bassam had been raised to hate one another. And yet, when they learn of each other's stories, they recognize the loss that connects them. Together they attempt to use their grief as a weapon for peace--and with their one small act, start to permeate what has for generations seemed an impermeable conflict. This extraordinary novel is the fruit of a seed planted when the novelist Colum McCann met the real Bassam and Rami on a trip with the non-profit organization Narrative 4. McCann was moved by their willingness to share their stories with the world, by their hope that if they could see themselves in one another, perhaps others could too. With their blessing, and unprecedented access to their families, lives, and personal recollections, McCann began to craft Apeirogon, which uses their real-life stories to begin another--one that crosses centuries and continents, stitching together time, art, history, nature, and politics in a tale both heartbreaking and hopeful. The result is an ambitious novel, crafted out of a universe of fictional and nonfictional material, with these fathers' moving story at its heart.