Search and shop for books
Doc: A Novel (Paperback)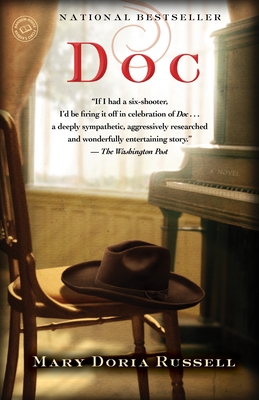 $17.00
Usually Ships in 1-5 Days
Fall '12 Reading Group List
---
"Doc Holliday and Wyatt Earp are icons of the Wild West - whiskey-swilling, poker-playing, quick-draw gunslingers -- whose exploits are the stuff of American legend. In real life, however, Doc was raised a genteel Southern gentleman, a dentist who went West hoping the dry air would help his tuberculosis. The Gunfight at the O.K. Corral was the culmination of a long string of events and setbacks, and Russell concentrates on Doc's life before the infamous shoot-out, when the friendship between the two men was just beginning. As always, Russell's dialogue is witty, her characters memorable, and her pacing effortless. This is an adventure tale, a love story, and an impeccably researched historical novel."
— Dana Schulz, Snowbound Books, Marquette, MI
May 2011 Indie Next List
---
"Lyrical, elegant, and compelling, romantic and relentless, Doc is the captivating story of John Henry Holliday, dentist, cardsharp, and tubercular gunfighter. Russell brings the Old West and her characters to rich and vivid life and paints a complex, charming portrait of a complicated individual. Forget about the O.K. Corral, Doc is where the real action is!"
— Carol Schneck, Schuler Books & Music, Okemos, MI
Description
---
NATIONAL BESTSELLER
 
Born to the life of a Southern gentleman, Dr. John Henry Holliday arrives on the Texas frontier hoping that the dry air and sunshine of the West will restore him to health. Soon, with few job prospects, Doc Holliday is gambling professionally with his partner, Mária Katarina Harony, a high-strung, classically educated Hungarian whore. In search of high-stakes poker, the couple hits the saloons of Dodge City. And that is where the unlikely friendship of Doc Holliday and a fearless lawman named Wyatt Earp begins— before the gunfight at the O.K. Corral links their names forever in American frontier mythology—when neither man wanted fame or deserved notoriety.



About the Author
---
Mary Doria Russell is the award-winning author of four previous bestsellers: The Sparrow, Children of God, A Thread of Grace, and Dreamers of the Day. Widely praised for her meticulous research, fine prose, and compelling narrative drive, Russell is uniquely suited to telling the story of the lawman Wyatt Earp and the dental surgeon John Henry Holliday. The daughter of Dick Doria, five-term sheriff of Dupage County, Illinois, Mary grew up with guns and cops but she also holds a doctorate in biological anthropology and taught gross anatomy at the Case Western Reserve University School of Dentistry before she left academe to write. 


From the Hardcover edition.
Praise For…
---
"If I had a six-shooter, I'd be firing it off in celebration of Doc . . . a deeply sympathetic, aggressively researched and wonderfully entertaining story."—The Washington Post
 
"A magnificent read . . . filled with action and humor yet philosophically rich and deeply moving . . . more realistic yet more riveting than any movie or TV western . . . Doc Holliday is the tragic hero in this terrific bio-epic. . . . Losing their mythic, heroic sheen, figures like Wyatt Earp and Bat Masterson become more captivating for their complexity."—Kirkus Reviews (starred review)
 
"Intense, individual characters, so fully realized that readers can almost physically touch them, fill the novel's pages . . . Doc's restrained but magnificent struggle to rise above the indignities of his disease and of life in Dodge . . . is one of the delights of this surprisingly luminous and elegant novel."—The Oregonian
 
"Fascinating . . . Russell's women are a match for any of the men in Dodge, and their presence at the center of Doc gives the novel an unforced verisimilitude."—The Plain Dealer
 
"Intoxicating . . . Doc reads like a movie you can't wait to watch."—The Seattle Times
 
"Grabs us from the opening sentence . . . Russell makes the narrative hum and the characters come alive."—Chicago Tribune
 
"Well-written and provocative, Doc is a book that will haunt you."—Historical Novels Review