From the Mixed-Up Files of Mrs. Basil E. Frankweiler (Audio Cassette)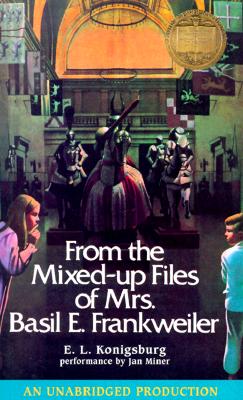 $18.00
Email or call for price
Description
---
Read by Jan Miner
Two cassettes / 3 hours 32 mins.

Twelve-year-old Claudia Kincaid is restlesses--she wants to do something different, such as running away from her comfortable suburban life in Connecticut for a while.  But not just any place will do because Claudia likes her comforts.  It needs to be a place with a bit of luxury and some good company.  Ans she wants to be gone just long enough to teach her parents to appreciate her.

With careful planning, Claudia stages her own secret live-in at New York's Metropolitan Museum of Art, taking along her nine-year-old brother, not so much for company, but mostly because he is a miser and will have money.  What happens to Claudia and Jamie, and the changes that come about in this sister-brother duo, prove greater than either had bargained for.