The Risen Empire (Mass Market Paperback)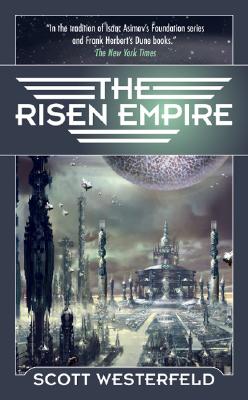 Description
---
From the acclaimed author of "Fine Prey," "Polymorph," and "Evolution's Darling "(Philip K. Dick Award special citation and a "New York Times" Notable Book) comes a sweeping epic, "The Risen Empire," Scott Westerfeld's dazzling hardcover debut.
The undead Emperor ruled his mighty interstellar empire of eighty human worlds for sixteen hundred years. Because he can grant a form of eternal life, creating an elite known as the Risen, his power has been absolute. He and his sister, the Child Empress, who is eternally a little girl, are worshipped as living gods. No one could touch them.
Not until the Rix, machine-augmented humans who worship very different gods: AI compound minds of planetary extent. The Rix are cool, relentless fanatics, and their only goal is to propagate such AIs throughout the galaxy. They seek to end, by any means necessary, the Emperor's prolonged tyranny of one, and supplant it with an eternal cybernetic dynasty of their own. They begin by taking the Child Empress hostage. Captain Laurent Zai of the Imperial Frigate Lynx is tasked with her rescue.
Separated by light years, bound by an unlikely love, Zai and pacifist Senator Nara Oxham must each, in their own way, face the challenge of the Rix, as they hold the fate of the empire in their hands. "The Risen Empire" is the first great space opera of the 21st century.

About the Author
---
Scott Westerfeld is a software designer, a composer of music for modern dance, and the author of four previous novels. He lives in New York City and Sydney, Australia.
Praise For…
---
"Literate space opera in the tradition of Isaac Asimov's Foundation series and Frank Herbert's Dune books. With a light touch all his own, Westerfeld illumines the clash of mighty galactic empires by focusing on individuals who, despite the distractions of war and politics, cannot help falling in love."-The New York Times, a "Summer Reading" selection

"The Risen Empire is full of relentless and addictive action which is supported by some truly wild ideas. Westerfeld's blend of traditional space opera and cutting-edge speculation makes this a truly 21st century SF novel."-Karl Schroeder

"Westerfeld's exceptionally smart and empathetic novel, the first of two in a series, confirms the buzz that space opera is one of the most exciting branches of current SF. . . . Keeping the reader constantly off-balance, Westerfeld skillfully integrates extreme technologies with human characters."-Publishers Weekly [Starred Review]

"The Risen Empire is proof that space opera can be as complex and sophisticated as any other form of literature. Doc Smith would barely recognize it."-- Mike Resnick

"Westerfeld spins a dramatic tale that never flags in pace or imagination, nor in its abundance of original vision abandons narrative in favor of didactic digressions . . . a strong and vibrant story, as engaging and innovative in its scope as his mechanical inventions or cultural constructs. In my opinion this novel represents a balance that much contemporary science fiction lacks. And just when you thought that the author has exhausted the possibilities for further invention, he takes the reader down entirely new and delightfully unexpected paths . . . the richness of imagination present in the author's world-building, as well as the febrile and vivid description that accompanies his settings and the novel's cultural and social infrastructure, easily set the book apart, not only from the common space opera but from most other science fiction as well. Westerfeld's characterizations . . . possess both depth and a poignant and compassionate humanity. . . . this recalls some of the best of Asimov but written with a more concise and breathless speed. It's been quite a while since I've read science fiction I've enjoyed more or that combines narrative action with imagination as intelligently. Heartily f0recommended."--Interzone

"There's always been something almost soothing about space opera: no matter how many starships explode, planetary rulers topple, and sinister aliens slither, the almost gleeful sense of wonder warms and comforts the reader. This space opera is so much more than that. The Risen Empire glows with sense of wonder, but it's stuffed with ideas, quirky technologies, nuances of moral choices, and sees conflicts from all sides. I loved it, I heartily recommend it, and I hope Scott Westerfeld pens many more books like it---quickly!"-Ed Greenwood

"Recent writers in [the space opera] sub-genre include the likes of Vernor Vinge, David Brin, Peter Hamilton, Iain Banks, Ken MacLeod, Alastair Reynolds, and Karl Schroeder. Indeed, many of the most popular writers in the science fiction field today are writing space operas. Scott Westerfeld is the latest author to throw his hat into the ring with his new novel The Risen Empire . . . [a] baroque space opera. The novel contains a great story with interesting sub-plots, cool technology, and engaging characters. I found Risen a fun read full of intriguing ideas and reminiscent of Iain Banks' Culture novels in breadth and scope."-SFRevu.com

"In Westerfeld's hands, science fiction's cutting edge is wielded with both the precision of a surgeon's scalpel and the wild abandon of a machete."-Wil McCarthy

"This is the start of an ambitious saga that delivers that good old science fiction "sense of wonder" combined with a thoroughly modern -- and even post-modern -- information age sensibility. Westerfeld creates an incredibly rich, consistently imagined far-future milieu packed with inspired transhuman civilization-building, technological foresight, and the fine attention to details both large and small that marks this as visionary science fiction of the highest quality. Westerfeld's got creativity out the yin yang!"-Tony Daniel




Literate space opera in the tradition of Isaac Asimov's Foundation series and Frank Herbert's Dune books. With a light touch all his own, Westfield illumines the clash of mighty galactic empires by focusing on individuals who, despite the distractions of war and politics, cannot help falling in love.