The Risen Empire: Book One of Succession (Paperback)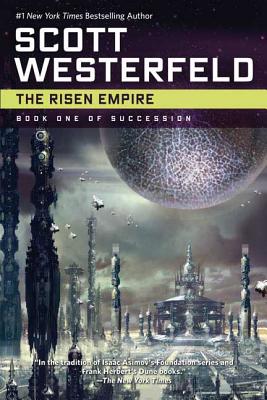 Other Books in Series
This is book number 1 in the Succession series.
Description
---
From the acclaimed #1 New York Times bestselling author of Evolution's Darling (Philip K. Dick Award special citation and a New York Times notable book) and Uglies, Pretties, and Specials, comes a sweeping epic. The Risen Empire is the first great space opera of the twenty-first century.
The undead Emperor has ruled his mighty interstellar empire of eighty human worlds for sixteen hundred years. Because he can grant a form of eternal life-after-death, creating an elite known as the Risen, his power is absolute. He and his sister, the Child Empress, who is eternally a little girl, are worshipped as living gods.
The Rix are machine-augmented humans who worship very different gods: AI compound minds of planetary size. Cool, relentless fanatics, their only goal is to propagate such AIs. They seek to end the Emperor's prolonged rule, and supplant it with an eternal cybernetic dynasty. They begin by taking the Child Empress hostage. Captain Laurent Zai of the Imperial Frigate Lynx is tasked with her rescue.
Separated by light years, bound by an unlikely love, Zai and pacifist Senator Nara Oxham must both face the challenge of the Rix, and both will hold the fate of the empire in their hands.
About the Author
---
Scott Westerfeld is a software designer, a composer of music for modern dance, and the author of novels such as The Risen Empire and The Killing of Worlds. He lives in New York City and Sydney, Australia.
Praise For…
---
"Westerfeld illumines the clash of mighty galactic empires by focusing on individuals who, despite the distractions of war and politics, cannot help falling in love." —The New York Times

"Westerfeld's exceptionally smart and empathetic novel…confirms the buzz that space opera is one of the most exciting branches of current SF." —Publishers Weekly (starred review)