Finnikin of the Rock (Lumatere Chronicles #1) (Paperback)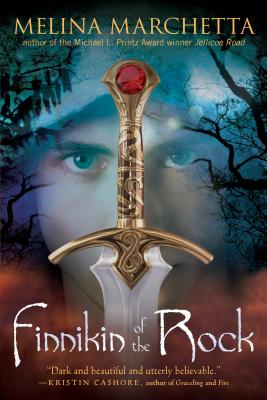 $10.99
Email or call for price
Other Books in Series
This is book number 1 in the Lumatere Chronicles series.
Description
---
2008 Printz Award Winner Melina Marchetta crafts an epic fantasy of ancient magic, exile, feudal intrigue, and romance that rivets from the first page.

Finnikin was only a child during the five days of the unspeakable, when the royal family of Lumatere were brutally murdered, and an imposter seized the throne. Now a curse binds all who remain inside Lumatere's walls, and those who escaped roam the surrounding lands as exiles, persecuted and despairing, dying by the thousands in fever camps. In a narrative crackling with the tension of an imminent storm, Finnikin, now on the cusp of manhood, is compelled to join forces with an arrogant and enigmatic young novice named Evanjalin, who claims that her dark dreams will lead the exiles to a surviving royal child and a way to pierce the cursed barrier and regain the land of Lumatere. But Evanjalin's unpredictable behavior suggests that she is not what she seems — and the startling truth will test Finnikin's faith not only in her, but in all he knows to be true about himself and his destiny.
About the Author
---
Melina Marchetta is the acclaimed and multi-award-winning author of Jellicoe Road, a Michael L. Printz Medal winner, Saving Francesca, and Looking for Alibrandi. She lives in Australia, where Finnikin of the Rock, her first fantasy novel, won an Aurealis Award.
Praise For…
---
Magic, romance, intrigue, and adventure all play their parts as this dense, intricate epic unfolds, and flawed, memorable heroes fight for their kingdom's redemption.
—Publishers Weekly (starred review)

Filled with questions about the impact of exile and the human need to belong, this standout fantasy quickly reveals that its real magic lies in its accomplished writing.
—Booklist (starred review)

Readers will be rewarded by a shining story of romance, adventure in all of its gritty realism, and high ideals.
—School Library Journal (starred review)

Marchetta transforms what could be just another epic quest into an innovative fantasy; it's driven almost entirely by the intense relationships among its multidimensional characters, giving the readers a unique perspective on the Lumatere situation as both a personal and political crisis.
—Bulletin of the Center of Children's Books (starred review)

This fantasy has it all — magic, intrigue, bloodshed, and romance. . . the plot and the characters are complex and truly believable.
—Library Media Connection (starred review)

Standard fantasy characters people this book, but they develop in surprising, non-stock ways. . . . Fantasy readers will enjoy the rousing and complex plot, filled with political intrigue and frequent red herrings and dotted with abductions, arrests and close escapes from a variety of dangers.
—Kirkus Reviews

A fully realized medieval world of bloody battles and dark mysticism, the fantasy is a clear allegory for the real-world atrocities of war, addressing sickness, hunger, violence, even rape. Swagger and swordplay among the men and tender moments between the young lovers lighten their hardships and hint at a hopeful ending.
—The Horn Book

A wonderful engrossing reading experience with strong characterizations and a rich fully realized setting Marchetta is a marvelous storyteller.
—BookPage

A magical, memorable story that will not soon leave you. If you like your protagonists (both male and female) smart and strong, and you like your romance heart-stopping, this is the book for you.
—Shelftalker (PW blog)