Foxglove Summer (Rivers of London #5) (Mass Market)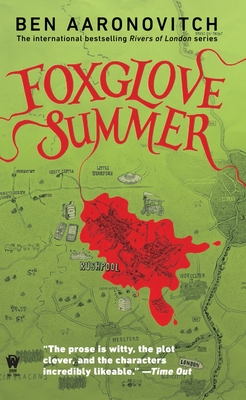 Other Books in Series
This is book number 5 in the Rivers of London series.
Description
---
Ben Aaronovitch's bestselling Rivers of London urban fantasy series • "The perfect blend of CSI and Harry Potter." —io9 • 2015 Locus Recommended Reading for Fantasy

When two young girls go missing in rural Herefordshire, police constable and wizard-in-training Peter Grant is sent out of London to check that nothing supernatural is involved.

It's purely routine—Nightingale, Peter's superior, thinks he'll be done in less than a day. But Peter's never been one to walk away from someone in trouble, so when nothing overtly magical turns up he volunteers his services to the local police, who need all the help they can get.

But because the universe likes a joke as much as the next sadistic megalomaniac, Peter soon comes to realize that dark secrets underlie the picturesque fields and villages of the countryside and there might just be work for Britain's most junior wizard after all.

Soon Peter's in a vicious race against time, in a world where the boundaries between reality and fairy have never been less clear....
About the Author
---
Ben Aaronovitch was born in London in 1964 and had the kind of dull routine childhood that drives a man either to drink or to science fiction. He is a screenwriter, with early notable success on BBC's legendary Doctor Who, for which he wrote some episodes now widely regarded as classics, and which even he is quite fond of. After a decade of such work, he decided it was time to show the world what he could really do, and embarked on his first serious original novel. The result is Midnight Riot, the debut adventure of Peter Grant. He can be contacted at his website, the-folly.com.
Praise For…
---
Praise for the Rivers of London series:

"A low-income housing tower gone awry, an old enemy with a bone to pick...and a shocker of an ending—Broken Homes is a delight." —Charlaine Harris, #1 New York Times-bestselling author

"The prose is witty, the plot clever, and the characters incredibly likeable." —Time Out

"This series is a constant joy to read....I've been looking forward all year to find out what happened next, and the book did not disappoint." —Genevieve Cogman, author of acclaimed The Invisible Library

"It's witty, fun, and full of vivid characters, and the plot twists will keep even seasoned mystery fans guessing." —Publishers Weekly

"The perfect blend of CSI and Harry Potter." —io9

"This book is, at its heart, a police procedural with an overlay of urban fantasy elements. The voice is persuasive and funny as all get-out, and the reader is engaged with the narrative from the very first page. Aaronovitch has written a diverse cast of characters who all feel like real people with their own specific motivations. This book is simply wonderful." —RT Reviews (top pick)

"The most satisfying fantasy thriller to hit bookshelves in quite some time." —SFX Magazine

"The most entertaining book that I have read in such a long time.... It's very funny, it's very clever, it's very nicely written.... It's such a treat." —Nancy Pearl

"Aaronovitch makes the story sing, building momentum until the ending is literally breathless." —SF Revu

"Aaronovitch has a very witty, casual voice, with a tendency toward sarcasm and humor, which is threaded throughout Broken Homes. And a few crazy plot twists will devastate and delight fans in equal measure." —RT Reviews