Rich AF: The Winning Money Mindset That Will Change Your Life (Hardcover)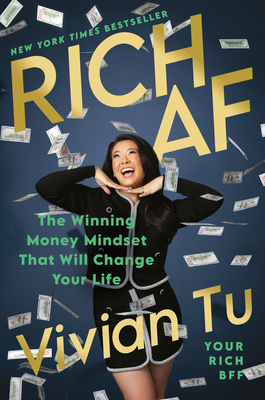 $29.00

Coming Soon - Available for Pre-Order now
Description
---
From TikTok star and Your (favorite) Rich BFF Vivian Tu, the definitive book on personal finance for a new generation
When Vivian Tu started working on Wall Street fresh from undergrad, all she knew was that she was making more money than she had ever seen in her life. But it wasn't until she found a mentor of her own on the trading floor that she began to understand what wealthy people knew intuitively—the secrets to beating the proverbial financial game that has, for too long, been male, pale, and stale.
Building on the lessons she learned on Wall Street about money and the markets, Vivian now offers her best personal finance tips and tricks to readers of all ages and demographics, so that anyone can get rich, whether you grew up knowing the rules to the game or not. Vivian will be
your
mentor, dispensing fresh, no-BS advice on how to think like a rich person and create smart money habits. Throughout the pages of
Rich AF
,
Vivian will break down her best recommendations to help you:
Maximize your earnings to get more out of your 9-to-5
Understand the differences between savings accounts, and where you should keep your money
Identify the tax strategies and (legal) loopholes you need to retire in style
Overcome investing fears to secure wealth for generations
And much more!
Rich AF
will equip readers with the tools and knowledge to not only understand the financial landscape, but to build a financial strategy of their own. And with Your Rich BFF at your side, you'll be able to start your financial journey already in an affluent mindset, making the most of your money and growing your wealth for years to come.
About the Author
---
Vivian Tu is a former Wall Street trader-turned-expert, educator, public speaker, host, entrepreneur, media powerhouse, and founder and CEO of the financial equity platform Your Rich BFF. Since posting her first TikTok video in 2021, her dedication to promoting financial literacy has earned her crossplatform fame with over six million followers and counting, as well as honors on both the Forbes "30 Under 30—Social Media" (2023) and inaugural "Top Creators" (2022) lists. Vivian's financial prowess and natural speaking talents have culminated in the debut of her podcast, Networth and Chill, which has climbed to the top of the business podcast charts. Vivian has brought her talent for making finance approachable to panels, keynote presentations, and brand campaigns and partnerships. She currently splits her time between Miami, Florida, and New York City.
Praise For…
---
"I wish this book existed when I was coming up and making money for the first time, because Vivian shows us how to make our finances WORK for us! So proud to see my fellow Asian girly teach us all how to be Rich AF!"
- Bretman Rock, social media phenomenon and bestselling author

"I can't get enough of 'Your Rich BFF' on social media. Vivian's book, Rich AF, is as smart, funny, and forthright as her videos, but there are more of her stories to enjoy as she imparts valuable lessons and breaks down complicated financial concepts in a way that will keep you chuckling as you read."
- Lisa Ling, award-winning journalist and CBS News reporter

"If you've ever felt like the world of finance wasn't for you, Vivian will show you that no matter who you are, it's never too late to pull up your seat at the table. Rich AF proves that finance is for everyone!"
- Karamo Brown, author, actor, and Queer Eye culture expert

"In Rich AF, Vivian's passion for financial literacy and desire to help others shines through. This is an excellent roadmap for those who want to learn how to make the most of their money."
- Alexa von Tobel, CFP®, author of Financially Forward and founder of Inspired Capital

"A spry crash course for how young people can build wealth."
-Publishers Weekly

"This book will appeal to everyone who deals with money, especially younger readers who are starting their career journeys and looking to build financial strategies of their own."
-Booklist