Snacking Bakes: Simple Recipes for Cookies, Bars, Brownies, Cakes, and More (Hardcover)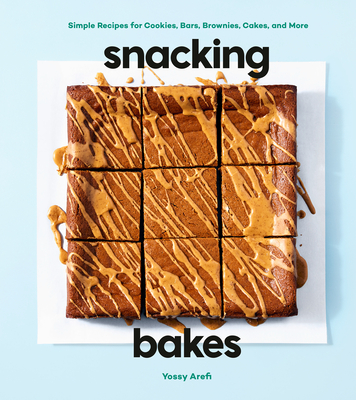 $25.00

Available - On our shelves now
Description
---
60 accessible, anytime recipes for delectable cookies, cakes, brownies, and bars that need only one bowl and easy-to-find ingredients, from the award-winning author of Snacking Cakes

"Snacking Bakes is packed with Yossy's trademark crave-worthy sweet-and-salty, ooey-gooey excellence—all without the fussiness and dish pile-up in the sink."—Jenny Rosenstrach, New York Times bestselling author of Dinner: A Love Story

A BEST COOKBOOK OF THE YEAR: San Francisco Chronicle, Good Housekeeping, Epicurious

Instantly satisfy your cravings with a collection of sweet and savory bakes that are delicious and easy to make. Trusted baker Yossy Arefi promises simple recipes that require minimal effort with big rewards. Almost every treat can be made in under one hour, in one bowl, and with no fancy ingredients or equipment—leaving you with less time in the kitchen and more time for snacking! Its approachable, crowd-pleasing style makes it the perfect introduction to baking too, even for kids. 

Yossy covers all the baked-good bases with recipes that feature a wide range of enticing flavors (even savory!) and are each accompanied by gorgeous photography shot by Yossy herself. 

• Cookies: Magical Peanut Butter Cookies, Monster Cookies, New Favorite Chocolate Chip Cookies, Blueberry Cornmeal Cookies, Fudgy Sesame Oat Cookies, Snack Attacks, Banana Brownie Cookies
• Bars, Brownies, and Bark: Triple Chocolate Olive Oil Blondies, Blueberry Swirl Blondies, Coconut Cookie Bark, Pumpkin Chocolate Chip Bars, Loaded Chocolate Chip Cookie Bars, Ginger Cherry Oaties
• Cakes and Loaves: Chocolate Chip Snickerdoodle Cake, Spiced Applesauce Crumb Cake, Brown Sugar Peach Cake, Peanut Butter  Jam Cake, Everything Bagel Biscuit Bread

An expansive companion to Snacking Cakes, Snacking Bakes will satisfy family and friends, bakers and non-bakers alike, with its creative, appealing, and simple delights.
About the Author
---
Yossy Arefi is a cookbook author, photographer, and food stylist. Yossy also writes the award-winning blog Apt. 2B Baking Co., which celebrates seasonal baking and preserving. Her work has appeared in The New York Times, Food52, Bon Appétit, and many other publications. She is based in Brooklyn, New York.
Praise For…
---
"Snacking Bakes is packed with her trademark crave-worthy sweet-and-salty, ooey-gooey excellence—all without the fussiness and dish pile-up in the sink. I dare you to flip through these pages and not immediately run to the kitchen to get started."—Jenny Rosenstrach, New York Times bestselling author of Dinner: A Love Story

"Yossy's Snacking Cakes revolution was REAL, and I've got the butter-stained, marked-up recipe pages and happy cake-loving kids to show for it. And now we get cookies, bars, and more cakes that are just as low-maintenance? Yossy, we are not worthy!"—Molly Yeh, New York Times bestselling cookbook author and Food Network host

"In no time at all, readers will be sliding flavorful, beautiful bakes in and out of their oven as if they've been doing it forever—that's the magic of Yossy's simple, achievable collection of recipes: positively 100 percent bakeable—no skips!"—Erin Jeanne McDowell, author of The Book on Pie and Savory Baking

"Yossy knows something fundamental about all of us. When we want something sweet, we want it now. Her treats deliver. No fuss, just easy, accessible, truly inspired deliciousness. Snacking Cakes is well-worn, batter-spattered, and beloved. Our copy of Snacking Bakes is sure to be a mess in no time."—Samantha Seneviratne, author of Bake Smart

"Yossy has an amazing ability to make incredibly desirable recipes that are also incredibly simple to make. This wonderful book, which is packed full of reliable and ridiculously tasty recipes, is one you'll find yourself baking from time and time again."—Edd Kimber, baker and author of One Tin Bakes Easy

"Yossy's new book is filled with simple, anytime bakes that cover all the sweet treat bases. Her use of pantry ingredients to create classic but unique flavor combinations is stellar, and you won't need any fancy equipment to make any of the recipes; the biggest challenge will be deciding what to make first. This book already has a permanent spot on my shelves."—Sarah Kieffer, author of 100 Cookies and 100 Morning Treats