My Life as a Potato (Hardcover)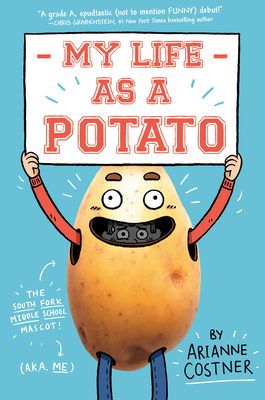 Staff Reviews
---
Ben and his family moved to Idaho from California partway through his 7th grade school year. When a hot dog bouncing incident in the lunchroom benches Wyatt, the kid who serves as Steve the Spud, the school mascot, Ben is sentenced to the new few basketball games as the school's mascot.
This book does a fantastic job conveying just how extreme things can feel in middle school (so HUMILIATING to be dressed as a potato, so AMAZING to be asked to a dance by a cheerleader, so CONFUSING that you might not really enjoy talking with that cheerleader...), and how important friendship, kindness, and responsibility are at any age. I found this wonderfully refreshing, enjoyable, and funny. --Tegan
— From
Middle Grade Book Recommendations
Description
---
For anyone who has ever felt like a potato in middle school, this hilarious story about a boy forced to become the dorkiest school mascot ever will have readers cheering!

"A grade A, spudtastic (not to mention FUNNY) debut. Arianne Costner sure knows middle school and middle schoolers!" --Chris Grabenstein, #1 New York Times bestselling author of Escape from Mr. Lemoncello's Library

Ben Hardy believes he's cursed by potatoes. And now he's moved to Idaho, where the school's mascot is Steve the Spud! Yeah, this cannot be good.

After accidentally causing the mascot to sprain an ankle, Ben is sentenced to Spud duty for the final basketball games of the year. But if the other kids know he's the Spud, his plans for popularity are likely to be a big dud! Ben doesn't want to let the team down, so he lies to his friends to keep it a secret. No one will know it's him under the potato suit . . . right?

Life as a potato is all about not getting mashed! With laugh-out-loud illustrations throughout, hand to fans of James Patterson, Gordan Korman, Jeff Kinney, and Chris Grabenstein!

"A hilarious, relatable story for any kid who has ever felt out of place." --Stacy McAnulty, author of The Miscalculations of Lightning Girl
About the Author
---
ARIANNE COSTNER is a former English teacher who firmly believes that writers should crack up at their own jokes. Born and raised in Mesa, Arizona as the oldest of five, she currently lives outside of Los Angeles, California with her husband and children. Her favorite kind of potato is the tater tot, with mashed potatoes coming in close second--as long as they're not gluey. Visit her at ariannecostner.com and follow her on Twitter at @ariannecostner and on Instagram @authorariannecoster.
Praise For…
---
"Reminiscent of Lincoln Peirce's 'Big Nate' comics and Chris Grabenstein's and James Patterson's 'I Funny' series." --School Library Journal
"The author keeps the novel moving quickly, pushing forward with witty asides and narrative momentum." —Kirkus Reviews

"A hilarious, relatable story for any kid who has ever felt out of place." --Stacy McAnulty, author of The Miscalculations of Lightning Girl