My Misadventures as a Teenage Rock Star (Paperback)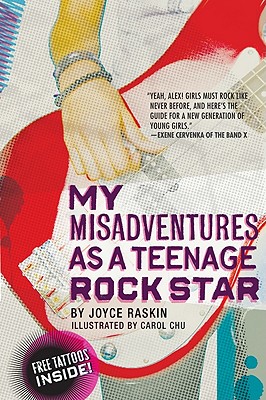 $8.99

Available to order - Usually arrives at our store in 1-5 days
Description
---
 Rock 'n' roll isn't just about sex and drugs. It's about self-expression, lasting friendships, and self-empowerment. That's what Alex learns after she starts playing bass for a rock band in this almost true story. Joyce Raskin, author and musician, culls from her memories to create this funny, touching, and honest look at what it's like to be a teenager, a girl, and a rock star all at the same time. 

Also included are a note from the author, instructions on how to play basic guitar chords, advice on songwriting, and more!

About the Author
---
Joyce Raskin started playing guitar and bass when she was a young teen. She continued playing and, after graduating from RISD, joined the rock band Scarce. Ten years later, Joyce self-published a book about her experiences in the band entitled
Aching to Be
. She has since gone on to become a designer of children's books. She lives in Braintree, MA, with her family.
Check out more about Joyce and Scarce on Facebook/teenrockstar.
Carol hails originally from Tennessee, and from a very young age, made "I'm moving to New York" her battle cry. She has a degree in journalism and a master's in design and has worked at TeenPeople, InStyle, Redbook, and Lucky. Currently, Carol is an art director and she designs books of all sorts.
Praise For…
---
"Yay, Alex! Girls must rock like never before, and here's the guide for a new generation of young girls. Rock on!"—Exene Cervenka of the band X "Alex is a great and complex girl (as we all are). She is strong and sensitive, brave and nervous, giddy and gritty, wise and young. And she rocks! Literally and figuratively. This is a true-feeling story about the power of picking up a guitar or some drumsticks, making some noise, and finding your voice. This is how it feels."—Tanya Donelly of Throwing Muses, The Breeders, Belly, and the Tanya Donelly Band "I love this book. I only wish I could have been able to read it when I was 14 and getting into music."— Mary Timony of The Mary Timony Band, Wild Flag, and Helium "When I was a young teenager trying to learn how to play guitar and start a band I felt very alone. Girls today can turn to this book when they need some sisterly solidarity and guidance."—Juliana Hatfield of The Blake Babies, Juliana Hatfield Three, and Juliana Hatfield "[Joyce] continues to be a remarkable female roll model in my life and I am so excited to know she will influence and inspire hundreds if not thousands of more girls from a whole new generation. Truly awesome stuff."—Lightning's Girl, blogger " . . . Chu's doodles and Raskin's concluding personal experiences, as well as tips on playing the guitar and writing song lyrics, will strike just the right chord."—Booklist —