Collected Poems (Hardcover)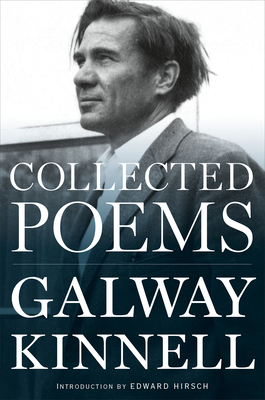 $35.00
Usually Ships in 1-5 Days
Description
---
The definitive collection of poems from Pulitzer Prize winner, MacArthur Fellow, and National Book Award winner Galway Kinnell. 
"It's the poet's job to figure out what's happening within oneself, to figure out the connection between the self and the world, and to get it down in words that have a certain shape, that have a chance of lasting." —Galway Kinnell
 
This long-awaited volume brings together for the first time the life's work of a major American voice.
 
In a remarkable generation of poets, Galway Kinnell was an acknowledged, true master. From the book-length poem memorializing the grit, beauty, and swarming assertion of immigrant life along a lower Manhattan avenue, to searing poems of human conflict and war, to incandescent reflections on love, family, and the natural world—including "Blackberry Eating," "St. Francis and the Sow," and "After Making Love We Hear Footsteps"—to the unflinchingly introspective poems of his later life, Kinnell's work lastingly shaped the consciousness of his age. 
 
Spanning 65 years of intense, inspired creativity, this volume, with its inclusion of previously uncollected poems, is the essential collection for old and new devotees of a "poet of the rarest ability . . . who can flesh out music, raise the spirits, and break the heart." (Boston Globe)
About the Author
---
GALWAY KINNELL (1927–2014) was a MacArthur Fellow and state poet of Vermont. In 1982 his Selected Poems won the Pulitzer Prize and the National Book Award. For many years he was the Erich Maria Remarque Professor of Creative Writing at New York University, as well as a chancellor of the Academy of American Poets. For thirty-five years—from The Book of Nightmares to Mortal Acts and, most recently, Strong Is Your Hold—Galway Kinnell enriched American poetry, not only with his poems but also with his teaching and powerful public readings.
EDWARD HIRSCH is a celebrated poet and peerless advocate for poetry. A MacArthur fellow, he has published nine books of poems and five books of prose. He has received numerous awards and fellowships, including a National Endowment for the Arts Fellowship, the Rome Prize, a Pablo Neruda Presidential Medal of Honor, and the American Academy of Arts and Letters Award for Literature. He serves as president of the John Simon Guggenheim Memorial Foundation and lives in Brooklyn.
Praise For…
---
A New York Times Noteworthy Book

"Fans of Galway Kinnell won't want to miss his Collected Poems, which reminds readers, three years after his death, why he is still one of our most beloved, essential poets. Kinnell, whose honors include the Pulitzer Prize and the National Book Award, imbued his poems with resonant images and a breathtaking combination of compassion, fragility and strength."
 –The Washington Post

"Kinnell's best poems are great with self, not piously emptied of it: alluringly proficient, capacious, seductive, roving; willing to make large claims, and risk the equation of a sounding phrase with an immortal sweetness.  As durable, as universal, as unequivocally and unironically wholehearted as any twentieth or twenty-first century poet could hope to be."
–Poetry Magazine

"Galway Kinnell excelled at creating immersive moments. The stanzas and scenes of his plain-spoken verse are grounded in physical detail and acute psychological insight, even as they explore more abstract philosophical territory. From his dark preoccupations—mortality, and the familiar ugliness of everyday life—he draws a sense of beauty and wonder."
–The Atlantic

"Kinnell's poems are exactly what one thinks of when one thinks of contemporary poetry. It is impossible to consider the landscape of the last 50 years of American poetry without Kinnell…[he] was inarguably a great poet. Specificity itself — the great bounty of attending intimately to life's minutia — is another of Kinnell's great subjects and poetic practices. Kinnell teaches…attentiveness."
–L.A. Times

"Kinnell's lifelong love of the world and its creatures, his faith in natural process, and his attempts to reconcile nature and culture will continue to appeal to those who care about and want to understand our place on this planet."
–Harvard Review

"To read this collection from the start is to experience the evolution of Kinnell's understanding of poetic form but also to witness his unique voice and sensibility, essentially present from the earliest years. Of all the poets of his generation, Kinnell is likely the most sanguine and sane, the one most exuberantly in love with life—all of it, and he embraces it all to rise again in his poems."
–World Literature Today

"Whether the details are urban or rural, [Kinnell's] strongest poems have the vigor and precision of acutely observed nature writing. And they demonstrate his special expertise with a flexible yet pressurized poetic line. Through his Collected Poems thrums a metrical pulse, and the vowels often reverberate as though a line of verse were a flexing plank struck by the voice. Now, this new Collected Poems provides definitive renderings of Kinnell's poetry in a majestic hardcover volume. Gathering the poems in one place for those who've long loved his work, it's also a welcoming gateway for newcomers."
–Seven Days