Transcendent Kingdom: A novel (Hardcover)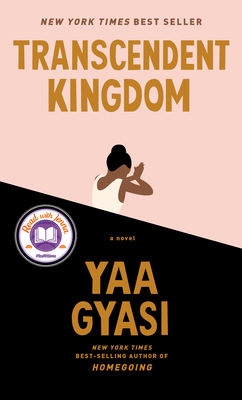 Staff Reviews
---
Gyasi's first book, Homegoing, was a favorite of 2016 and I eagerly awaited her second. It was worth the wait. Transcendent Kingdom brings us Gifty, a Ghananian immigrant who is at Stanford in her 6th year of neuroscience doctoral research. Gifty's work is motivated by issues she and her family have faced in America: addiction, grief and depression stemming from immigration and racism. Gifty finds her foundation of science reassuring and when elements of her childhood faith start to reappear, she ponders if it's possible to hold both at the same time. Brilliant and beautiful—Gyasi has done it again.
— From
Janis
This novel, about a young scientist working to discover a solution to conquer addiction, grapples with loss, depression, rage, and faith. Raised evangelical, her relationship to God is tested after she loses the person she loves most. What can be solved by science, and what is unanswerable? "Transcendence, holiness, redemption"--I was moved by this story from one of our new, most gifted storytellers.
— From
Erin
September 2020 Indie Next List
---
"Gifty immigrated from Ghana, grew up in Alabama, and is working on a PhD in neuroscience at Stanford, where she experiments with mice. She has always felt she wasn't cool enough or white enough, and tries to prove her value through her brilliance. She tells her raw and powerful story of racism, addiction, mental illness, and especially faith and prayer, all while trying hard to mend a complicated relationship with her mother. This second novel from the author of the award-winning novel Homegoing is compelling and so, so beautifully written."
— Sally Weitzen, Wellesley Books, Wellesley, MA
Description
---
A TODAY SHOW #ReadWithJenna BOOK CLUB PICK!

INSTANT NEW YORK TIMES BEST SELLER 

Yaa Gyasi's stunning follow-up to her acclaimed national best seller Homegoing is a powerful, raw, intimate, deeply layered novel about a Ghanaian family in Alabama.

Gifty is a sixth-year PhD candidate in neuroscience at the Stanford University School of Medicine studying reward-seeking behavior in mice and the neural circuits of depression and addiction. Her brother, Nana, was a gifted high school athlete who died of a heroin overdose after an ankle injury left him hooked on OxyContin. Her suicidal mother is living in her bed. Gifty is determined to discover the scientific basis for the suffering she sees all around her. But even as she turns to the hard sciences to unlock the mystery of her family's loss, she finds herself hungering for her childhood faith and grappling with the evangelical church in which she was raised, whose promise of salvation remains as tantalizing as it is elusive.

Transcendent Kingdom is a deeply moving portrait of a family of Ghanaian immigrants ravaged by depression and addiction and grief—a novel about faith, science, religion, love. Exquisitely written, emotionally searing, this is an exceptionally powerful follow-up to Gyasi's phenomenal debut.
About the Author
---
YAA GYASI was born in Ghana and raised in Huntsville, Alabama. She holds a BA in English from Stanford University and an MFA from the Iowa Writers' Workshop, where she held a Dean's Graduate Research Fellowship. She lives in Brooklyn.
Praise For…
---
"Gyasi sometimes reminds me of other writers who've addressed the immigrant experience in America—Jhumpa Lahiri and Yiyun Li in particular.... As in the work of Chimamanda Ngozi Adichie or the Ghanaian-American short-story writer Nana Kwame Adjei-Brenyah, the African immigrants in this novel exist at a certain remove from American racism, victims but also outsiders, marveling at the peculiar blindnesses of the locals...brilliant... Transcendent Kingdom trades the blazing brilliance of Homegoing for another type of glory, more granular and difficult to name."
—Nell Freudenberger, The New York Times Book Review 

"The novel is full of brilliantly revealing moments, sometimes funny, often poignant.... [Gifty is] provokingly vital."
—James Wood, The New Yorker

"Yaa Gyasi's profoundly moving second novel takes place in the vast, fragile landscape where the mysteries of God and the certainties of science collide. Through deliberate and precise prose, the book becomes an expansive meditation on grief, religion, and family."
—The Boston Globe

"Laser-like... A powerful, wholly unsentimental novel about family love, loss, belonging and belief that is more focused but just as daring as its predecessor, and to my mind even more successful… [Transcendent Kingdom] is burningly dedicated to the question of meaning… The pressure created gives her novel a hard, beautiful, diamantine luster."
—Sam Sacks, The Wall Street Journal

"A book of blazing brilliance ... of profound scientific and spiritual reflection that recalls the works of Richard Powers and Marilynne Robinson... A double helix of wisdom and rage twists through the quiet lines...Thank God, we have this remarkable novel."
—Ron Charles, The Washington Post

"A luminous, heartbreaking and redemptive American story, Transcendent Kingdom is the mark of a brilliant writer who is just getting started."
—Seattle Times

"If You Read One Book This Year, Make It Yaa Gyasi's Transcendent Kingdom."
—Pop Sugar

"A stealthily devastating novel of family, faith and identity that's as philosophical as it is personal... It's bravura storytelling by Gyasi, so different in scope, tone and style from her 2016 debut Homegoing. That, too, was brilliant literature, as expansive as Transcendent Kingdom is interior...The range Gyasi displays in just two books is staggering."
—USA Today

""Elegant... burrows into the philosophical, exploring with complexity what it might mean for us to live without firm answers to the mysteries that wound us...  The measured restraint of Gyasi's prose makes the story's challenging questions all the more potent."
—The San Francisco Chronicle


"Poised to be the literary event of the fall."
—Entertainment Weekly

"I would say that Transcendent Kingdom is a novel for our time (and it is) but it is so much more than that. It is a novel for all times. The splendor and heart and insight and brilliance contained in the pages holds up a light the rest of us can follow."  
—Ann Patchett

"Absolutely transcendent. A gorgeously woven narrative about a woman trying to survive the grief of a brother lost to addiction and a mother trapped in depression while pursuing her ambitions. Not a word or idea out of place. Completely different from Homegoing. THE RANGE. I am quite angry this is so good."
—Roxane Gay

"[Transcendent Kingdom] will stay with you long after you've finished it."
—Real Simple

"Meticulous, psychologically complex...At once a vivid evocation of the immigrant experience and a sharp delineation of an individual's inner struggle, the novel brilliantly succeeds on both counts."
—Publishers Weekly [starred review]

"Gyasi's wise second novel pivots toward intimacy... In precise prose, Gyasi creates an ache of recognition, especially for readers knowledgeable about the wreckage of addiction. Still, she leavens this nonlinear novel with sly humor... The author is astute about childhood grandiosity and a pious girl's deep desire to be good; she conveys in brief strokes the notched, nodding hook of heroin's oblivion...final chapter that gives readers a taste of hard-won deliverance."
—Kirkus Reviews [starred review]

"Unforgettable... Transcendent Kingdom has an expansive scope that ranges into fresh, relevant territories—much like the title, which suggests a better world beyond the life we inhabit."
—BookPage [starred review]

"With deft agility andundeniable artistry, Gyasi's latest is an eloquent examination of resilient survival."
—Booklist