Long Bright River: A Novel (Hardcover)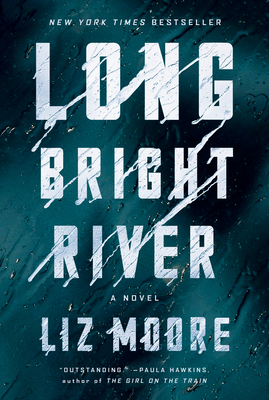 $26.00
Email or call for price
Great Reads
---
"This story's power comes not just from its beautiful writing but the reality of its characters and the incisive nature of its setting. Liz Moore has created a masterpiece that exposes the opioid epidemic in Philadelphia, highlighting the vulnerability of its victims and the sheer scope of suffering it causes. From the first page, when the murder mystery begins, readers will suffer and rejoice with the novel's oh-so-human characters. The power of this story is a fire that will linger for a long time."
— Hilary Kotecki, The Doylestown & Lahaska Bookshops, Doylestown, PA
Winter 2020 Reading Group Indie Next List
---
"Long Bright River begins with a list, a very long list, of people from the Kensington neighborhood of Philadelphia who have overdosed on opioids. The list is compiled by Mickey, a police officer who grew up in the neighborhood. On the list are both of her parents, and Mickey wonders when her beloved sister Kacey will be added. This is a very powerful story of addiction, family, and the hope for recovery and redemption."
— Nancy Baenen, Arcadia Books, Spring Green, WI
Description
---
ONE OF BARACK OBAMA'S FAVORITE BOOKS OF THE YEAR

NAMED A BEST BOOK OF THE YEAR BY NPR, PARADE, REAL SIMPLE, and BUZZFEED

AN INSTANT NEW YORK TIMES BESTSELLER

A GOOD MORNING AMERICA BOOK CLUB PICK

"[Moore's] careful balance of the hard-bitten with the heartfelt is what elevates Long Bright River from entertaining page-turner to a book that makes you want to call someone you love." – The New York Times Book Review
 
"This is police procedural and a thriller par excellence, one in which the city of Philadelphia itself is a character (think Boston and Mystic River). But it's also a literary tale narrated by a strong woman with a richly drawn personal life – powerful and genre-defying." – People
 
"A thoughtful, powerful novel by a writer who displays enormous compassion for her characters. Long Bright River is an outstanding crime novel… I absolutely loved it."
—Paula Hawkins, #1 New York Times-bestselling author of The Girl on the Train

Two sisters travel the same streets, though their lives couldn't be more different. Then one of them goes missing.

In a Philadelphia neighborhood rocked by the opioid crisis, two once-inseparable sisters find themselves at odds. One, Kacey, lives on the streets in the vise of addiction. The other, Mickey, walks those same blocks on her police beat. They don't speak anymore, but Mickey never stops worrying about her sibling.

Then Kacey disappears, suddenly, at the same time that a mysterious string of murders begins in Mickey's district, and Mickey becomes dangerously obsessed with finding the culprit--and her sister--before it's too late.

Alternating its present-day mystery with the story of the sisters' childhood and adolescence, Long Bright River is at once heart-pounding and heart-wrenching: a gripping suspense novel that is also a moving story of sisters, addiction, and the formidable ties that persist between place, family, and fate.
About the Author
---
Liz Moore is the author of the acclaimed novels Heft and The Unseen World. A winner of the 2014–2015 Rome Prize in Literature, she lives in Philadelphia.
Praise For…
---
"An instant sensation and the January pick for Good Morning America's book club." 
—Entertainment Weekly
 
"Navigates assuredly between the plot twists and big reveals. . . . Long Bright River is equal parts literary and thrilling." 
—O, The Oprah Magazine
 
"Tough, tense and twisty - but tender, human and deeply affecting, too ... I don't have a sister, but when I finished the book I called my brother, just to hear his voice."
—Lee Child
 
"Satisfyingly, the characters' interior lives are as important as the mysteries that propel the action." 
—NYT Editor's Choice
 
"Long Bright River— a book that has garnered much ­pre-publication buzz — nervously twists, turns and subverts readers' expectations till its very last pages. Simultaneously, it also manages to grow into something else: a sweeping, elegiac novel about a blighted city."
—The Washington Post
 
"Alternating its present-day mystery with the story of the sisters' childhood and adolescence, Long Bright River is at once heart-pounding and heart-wrenching: a gripping suspense novel that is also a moving story of sisters, addiction, and the formidable ties that persist between place, family, and fate." 
—Good Morning America

"Truly, this is a great literary novel about a city in the age of opioids and two sisters navigating their past. And in the tradition of many great literary thrillers, I promise you, you will not see the end coming."
—NPR

"Powerful." 
—The Wall Street Journal

"Moore's observations are informed and compassionate… One of loveliest things about Long Bright River is that it's not a literary glorification of addiction."
—The Guardian

"Thoughtfully explores the power of nature versus nurture, the pull of addiction, and, and the lengths we go to for family." 
—Marie Claire 

"An exquisite novel that dug its fingers into my heart and has refused to let go…I finished this novel shaken, both by its sheer emotional resonance and also because of how clear and familiar so much of what Moore describes feels to me.
—Medium.com

"Pulsating with breathtaking suspense and boundless compassion, Long Bright River is the kind of genre-defying novel that, once the final chapters close, you instantly implore people to read. Topical yet timeless, its page-turning narrative wrestles with the fissures and wreckage that addiction can inflict on a family—and a city. Liz Moore is a force, and Long Bright River should be on top of everyone's to-read list come January."
—Forbes

"A propulsive thriller and a poignant family saga."
—Time Magazine

"Deftly plotted with strong, vivid characters, Liz Moore's outstanding Long Bright River works as solid crime fiction and an intense family thriller." 
—Associated Press 

"Liz Moore's Long Bright River is the perfect literary page-turner. It's a brilliantly plotted crime novel, yes, but it's also a story about the complicated push and pull of family, and how much of our childhood traumas we carry forward through our lives. Anyone with a mother, a father, a brother, or a sister – anyone with a heart, for that matter – will love this book, as I did." 
—Mary Beth Keane, New York Times bestselling author of Ask Again, Yes

"Liz Moore's Long Bright River is a riveting portrait of so many things—of grief, of sisterhood, of a neighborhood in despair. Moore makes you care about the people that society too often abandons and, in doing so, pulls off a hat trick of epic storytelling that is stigma-busting, love-rendering, and page-turning to the last word."
— Beth Macy, New York Times-bestselling author of Dopesick: Dealers, Doctors, and the Drug Company That Addicted America

"A superlative crime novel. Set against the backdrop of Philadelphia's opioid crisis, this is not just a gripping mystery but a thoughtful, powerful novel by a writer who displays enormous compassion for her characters. Long Bright River is an outstanding crime novel, bringing to mind the best of Dennis Lehane or David Simon. I found myself eking out the final pages because I didn't want it to end. I absolutely loved it."
—Paula Hawkins, #1 New York Times-bestselling author of The Girl on the Train

"Long Bright River is a remarkable, profoundly moving novel about the ties that bind and the irrevocable wounds of childhood. It's also a riveting mystery, perfectly paced. I loved every page of it."
—Dennis Lehane, New York Times-bestselling author of Since We Fell
 
"Both sweeping and unbearably intimate, a riveting crime novel and a character-rich study of a city and its battered heart. And, in the way that Dennis Lehane anatomizes and explores his Boston, or Tana French her Dublin, Moore brings Philadelphia to vivid, wrenching life. Not to be missed."
—Megan Abbott, author of You Will Know Me

"It was excellent." 
—Jami Attenberg, author of All This Could be Yours 

"Impossible to put down, impossible to forget." 
—Library Journal (*starred review)

"One of the pleasures of this deeply moving, absolutely page-turning novel is the way Moore, in both the present and in flashbacks to Mickey and Kacey's childhood and teen years, slowly peels back layer after layer, revealing the old-boy's network in the Philadelphia police force, the depths of Mickey's loneliness, and the way the city of Philadelphia, particularly Kensington, is woven into this story, for good or ill. Give this to readers who like character-driven crime novels with a strong sense of place."
—Booklist (* starred review)

"Smartly crafted. . .Filled with strong characters and a layered plot, this will please fans of both genre and literary fiction." 
—Publishers Weekly