The Final Case: A novel (Hardcover)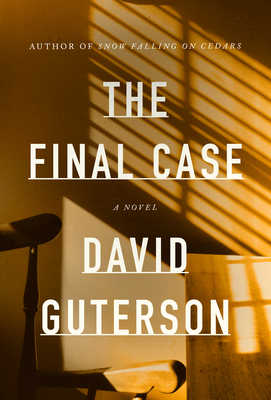 Staff Reviews
---
An absorbing novel about family relationships and living a purposeful life. A family of white fundamentalist Christians adopts a girl, Abebe, from Ethiopia. The parents try to get her to fit in and conform to their strict lifestyle. They are charged with murder after she dies from hypothermia right outside their house. For Royal, a Seattle criminal attorney, defending the wife will be his last case in a long career. His son, a writer and the novel's narrator, drives his father to and from the trial. Telling the dramatic story, he juxtaposes kinship and family love and dynamics. A compelling novel that makes you think about living a purposeful life.
— From
Krijn
Description
---
From the award-winning, best-selling author of Snow Falling on Cedars—a moving father-son story that is also a taut courtroom drama and a bold examination of privilege, power, and how to live a meaningful life.

A girl dies one late, rainy night a few feet from the back door of her home. The girl, Abeba, was born in Ethiopia. Her adoptive parents, Delvin and Betsy Harvey—conservative, white fundamentalist Christians—are charged with her murder.

Royal, a Seattle criminal attorney in the last days of his long career, takes Betsy Harvey's case. An octogenarian without a driver's license, he leans on his son—the novel's narrator—as he prepares for trial.

So begins The Final Case, a bracing, astute, and deeply affecting examination of justice and injustice—and familial love. David Guterson's first courtroom drama since Snow Falling on Cedars, it is his most compelling and heartfelt novel to date.
About the Author
---
DAVID GUTERSON is the author of several novels: the national best seller Snow Falling on Cedars; East of the Mountains; Our Lady of the Forest, a New York Times Notable Book and a Los Angeles Times Best Book of the Year; The Other; and Ed King. He is also the author of two story collections, two books of poetry, a memoir, and the work of nonfiction Family Matters: Why Homeschooling Makes Sense. The recipient of a Guggenheim Fellowship, he lives in Washington state.
Praise For…
---
"A unique, moving book . . . Nearly impossible to put down . . . It has an unexpected poignancy that builds as the pages turn . . . Though a story of hate is at its center, it's enveloped by a larger story of fiction and wonder and love—most brightly that of a son for his father." 
—Moira Macdonald, Seattle Times

"Masterful . . . Sublime . . . Ultimately, The Final Case is a thorough investigation into what makes the two main characters tick while providing readers truth about the human condition in that satisfying way only great fiction can do."
—Elena Hartwell, New York Journal of Books
 
"Elegiac and touched with Seattle Noir . . . The novelist's celebrated eye for detail is evident on page after page . . . Like Faulkner and Shakespeare, Guterson puts grotesquely evil acts at the center of his narratives. Like John Gardner, the stories are told in non-experimental ways and with a firm moral core . . . As in an earlier review of Guterson's novels, 'Here's the admirable thing. His books keep getting better.'"
—David Brewster, Post Alley

"In this courtroom drama, the author's first since Snow Falling on Cedars, Guterson turns the genre on its head . . . As the novel unfolds, its legal framework reveals its true stake: understanding how such a tragedy could occur within the systems we take part in . . . Hope triumphs."
—Avenue Magazine (Best Books of 2022 So Far)

"A tender, closely observed, and often surprising novel . . . Ultimately, the mystery at the center of The Final Case is not about innocence or guilt, but about how one family's profound attachments can stand alongside breathtaking cruelty in another . . . Guterson is the kind of writer about whom people used to say, when there were such things, 'I'd read him, even if he wrote the phone book.' Every sentence has a graceful weight and meter and is illumined by a subtle intelligence that makes his descriptions arresting but never showy . . . Vivid and wrenching."
—Scott Turow, New York Times Book Review

"A beautiful, heartfelt novel. Guterson's tale swirls and loops and soars and digresses, gradually pulling you, like a vortex, closer and closer to eternal truths about death and life, hate and love. Especially love."
—Daniel James Brown, author of #1 New York Times Best Seller The Boys in the Boat

"With empathy as deep as Puget Sound and his usual graceful prose, Guterson does a masterful job of showing a father facing his last big challenge in life and the son whose love of him is much more than filial duty. The Final Case is alive with all the contradictions of our moment, but more than that, it's alive with wisdom that this novelist has earned."
—Timothy Egan, author of National Book Award winner The Worst Hard Time

"David Guterson's appropriately nameless main character in The Final Case is a fiction writer at the vortex of a life he can no longer see as linear, heroic, or containable by his old architectures. In this 'final case,' all of history is on trial, and his character finds himself a witness in the still and silent eye of disturbances now cyclonic in force and scope. Guterson is at his best here when capturing the wildly various judgments of our moment. His ranters run the gamut, from fundamentalist conspiracy theorists to socialist decolonialists; he captures with equal accuracy the painful double-bind of being a young white liberal male, and the pathos of mortal decline. At the heart of the story lies the moral complexity of what constitutes salvation. Guterson's characters, powerless to deter, correct, or forgive one another, can only denounce and punish. But his witness, the writer, makes no easy sense of the crimes he encounters, and is capable of only the most tenuous conclusions. Nothing could be more humane, or timely.
—Karen Fisher, author of A Sudden Country

"I read The Final Case in a single sitting, spellbound by David Guterson's exploration of a tragic death caused by the kind of religious fanaticism that has long plagued our human species. Yet he balances this horrifying perversion of spirituality with the portrait of a lawyer, nearing death, who in the true meaning of heroism, knows that his daily devotion to the rule of law, reason, and civilized values is all that we have—as problematic as these principles can be—to hold back the irrational, ever-present darkness in the human soul. Long after you have finished reading this life-affirming novel, the timeless issues it raises will linger in your mind."
—Charles Johnson, author of National Book Award winner Middle Passage

"[An] outstanding literary thriller . . . Equal parts philosophical, humane, and self-deprecating, it powerfully speaks to the ineffable contradiction of living a meaningful life. Guterson sensitively explores religion, white privilege, and justice while examining with realism and empathy the bond between parents and their children. With its simple message of hope, this novel will linger with readers long after the final page."
—Publishers Weekly

"A bestselling author explores art, justice, and grief as he questions what makes a story true . . . [Guterson] subverts expectations over and over again . . . Needfully discomfiting."
—Kirkus Reviews (starred)