The Money Kings: The Epic Story of the Jewish Immigrants Who Transformed Wall Street and Shaped Modern America (Hardcover)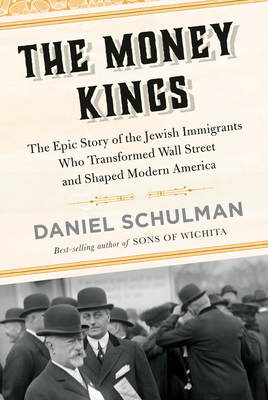 $35.00

Available - On our shelves now
Description
---
The incredible saga of the German-Jewish immigrants—with now familiar names like Goldman and Sachs, Kuhn and Loeb, Warburg and Schiff, Lehman and Seligman—who profoundly influenced the rise of modern finance (and so much more), from the New York Times best-selling author of Sons of Wichita

Joseph Seligman arrived in the United States in 1837, with the equivalent of $100 sewn into the lining of his pants. Then came the Lehman brothers, who would open a general store in Montgomery, Alabama. Not far behind were Solomon Loeb and Marcus Goldman, among the "Forty-Eighters" fleeing a Germany that had relegated Jews to an underclass.

These industrious immigrants would soon go from peddling trinkets and buying up shopkeepers' IOUs to forming what would become some of the largest investment banks in the world—Goldman Sachs, Kuhn Loeb, Lehman Brothers, J. & W. Seligman & Co. They would clash and collaborate with J. P. Morgan, E. H. Harriman, Jay Gould, and other famed tycoons of the era. And their firms would help to transform the United States from a debtor nation into a financial superpower, capitalizing American industry and underwriting some of the twentieth century's quintessential companies, like General Motors, Macy's, and Sears. Along the way, they would shape the destiny not just of American finance but of the millions of Eastern European Jews who spilled off steamships in New York Harbor in the early 1900s, including Daniel Schulman's paternal grandparents.

In The Money Kings, Schulman unspools a sweeping narrative that traces the interconnected origin stories of these financial dynasties. He chronicles their paths to Wall Street dominance, as they navigated the deeply antisemitic upper class of the Gilded Age, and the complexities of the Civil War, World War I, and the Zionist movement that tested both their burgeoning empires and their identities as Americans, Germans, and Jews.
About the Author
---
DANIEL SCHULMAN is the New York Times best-selling author of Sons of Wichita, a biography of the Koch family that was a finalist for the Financial Times and McKinsey Business Book of the Year Award. The deputy Washington bureau chief of Mother Jones, he lives in Massachusetts, with his wife and sons.
Praise For…
---
"Stellar . . . [A] wonderful book . . . A striking portrait of how Jews, and specifically these most elite Jews, set out to determine what it meant to be Jewish in America . . . Rich in both historical detail and as a character study, and readers will come away with a newfound appreciation for the heft of the legacy of these men, and a realization of how bittersweet that legacy is." —Emily Tamkin, The Washington Post

"A sprawling history of the German Jews who came to the United States in the 19th century and helped create the modern economy while navigating their own identities as Jews, bankers and Americans . . . Schulman is a thorough reporter with an eye for delightful details." —Jacob Goldstein, The New York Times Book Review

"A well-researched eco­nom­ic his­to­ry of the foun­da­tions of Jew­ish wealth and phil­an­thropy in Amer­i­ca . . . Schul­man sea­sons his account with enter­tain­ing anec­dotes [and] is alert to themes that res­onate today . . . While it's [Jacob] Schiff who stands out, he's well sit­u­at­ed in the con­text of his net­work, so the read­er gleans a fuller pic­ture of turn-of-the-cen­tu­ry Amer­i­can Jew­ish life and is shown a robust study of late nine­teenth cen­tu­ry, ear­ly twen­ti­eth cen­tu­ry Amer­i­can finan­cial history." —Bettina Berch, Jewish Book Council

"An ambitious and captivating group portrait of Jewish financial dynasties 'with profound legacies' in the U.S. from the 1830s to the present . . . Schulman presents a wealth of fascinating detail . . . Full of vivid personalities and intriguing tales of alliances and rivalries, this is a sensitive and compassionate portrait of the families that built Wall Street." —Publishers Weekly (starred review)

"A spirited account of the first great American financiers, many of them German Jewish immigrants, [and] a welcome, highly readable contribution to American financial and social history." —Kirkus Reviews (starred review)

"With The Money Kings, Daniel Schulman becomes our foremost historian of the American business dynasty. The story behind Goldman Sachs and other famed financial institutions takes readers to unexpected places: not just Wall Street, but Germany and Alabama, the Middle East and the Lower East Side. Schulman contends with both the good and evil that concentrated wealth can thrust upon the world—all without losing sight of the human tales behind the creation of modern finance." —Beverly Gage, author of G-Man (winner of the Pulitzer Prize)
 
"The Money Kings is more than just a riveting unraveling of the history of high finance in America. It gives voice to the Jewish peddlers who remade Wall Street, debunks antisemitic conspiracy theories, and offers inspiration to new generations of big-dreaming immigrants." —Larry Tye, author of Demagogue
 
"The origin stories of America's great Jewish banking families—among them, the Lehmans, the Schiffs, the Goldmans, and the Seligmans—have always been shrouded in some mystery. But no longer. Thanks to Daniel Schulman's endlessly riveting and triumphant Money Kings, the fascinating details of how these determined men made their marks and their fortunes on Wall Street are revealed, many for the very first time." —William D. Cohan, author of Power Failure
 
"Daniel Schulman's fascinating book tells the story of not one but two Jewish communities in New York more than a century ago. The relationship between them—the wealthy uptown elite and the poor downtown immigrants—makes this an absorbing tale." —Adam Hochschild, author of American Midnight
 
"A must-read for anyone seeking to gain a deeper understanding of the roots of modern finance and its foundational families. Schulman weaves a masterful tapestry of history, bringing to life the untold stories of a group of trailblazing pioneers who left an indelible mark on global business and Jewish life. It's a monumental work." —David de Jong, author of Nazi Billionaires