I Heard the Owl Call My Name (Mass Market)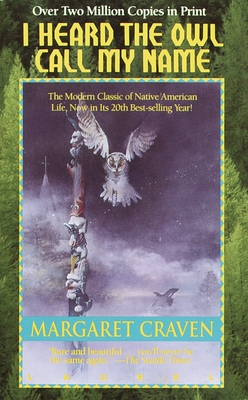 Staff Reviews
---
Years ago, when I read this for class, I never dreamed that I would live in the Pacific Northwest (which is the setting for this now classic YA novel). Growing up in south Florida, the terrain (to say nothing of the villages) it describes was unfamilar to me. In many ways, it still is. But the sense of entering into a place and a way of life that is so different (from what one has always known) is part of what keeps this novel one that is still one that, in spite of some of the dated language, is haunting and beautiful, and sad. Now that I live in the Pacific Northwest, I feel an even greater kinship to this novel.
— From
James
Description
---
Amid the grandeur of the remote Pacific Northwest stands Kingcome, a village so ancient that, according to Kwakiutl myth, it was founded by the two brothers left on earth after the great flood. The Native Americans who still live there call it Quee, a place of such incredible natural richness that hunting and fishing remain primary food sources.

But the old culture of totems and potlatch is being replaces by a new culture of prefab housing and alcoholism. Kingcome's younger generation is disenchanted and alienated from its heritage. And now, coming upriver is a young vicar, Mark Brian, on a journey of discovery that can teach him—and us—about life, death, and the transforming power of love.
About the Author
---
Margaret Craven (1901–1980) was the author of the much-loved American classic I Heard the Owl Call My Name. She also wrote another novel, Walk Gently This Good Earth; an autobiography, Again Calls the Owl; and a short-story collection, The Home Front.
Praise For…
---
"Rare and beautiful...you'll never be the same again."—Seattle Times

"It has an epic quality...entrancing."—New York Times Book Review

"Memorable.... A shining parable about the reconciliation of two cultures and two faiths."—Christian Science Monitor.