Above All Things (Paperback)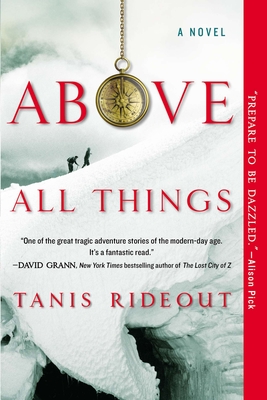 $16.00
Usually Ships in 1-5 Days
Description
---
A New York Times Editor's Choice

1924. George Mallory is arguably the last great British explorer, having twice tried—and failed—to conquer Mount Everest. The mountain has haunted him, but his attempts have captivated the hearts of a nation desperate to restore its former glory after World War I. Yet George has sworn to his wife, Ruth, that he will not mount a third attempt. He will remain with her and their three children instead of again challenging the unreachable peak.

Then, one afternoon, Ruth reads a telegram addressed to George: "Glad to have you aboard again." And with this one sentence, the lives of the Mallorys, and the face of the nation, are irrevocably changed.

A beautifully rendered story about the need for redemption and the quest for glory, Above All Things is a captivating blend of historical fact and imaginative fiction. It is a heartbreaking tale of obsession, sacrifice, and what we do for love and honor.
About the Author
---
Tanis Rideout's work has appeared in numerous publications and has been short-listed for several prizes, including a CBC Literary Award. Born in Belgium, she grew up in Bermuda and in Kingston, Ontario, and now lives in Toronto, where she received her MFA from the University of Guelph-Humber. Above All Things is her first novel.
Praise For…
---
"'Because it's there.' With just three words, George Mallory explained why they do what they do. Yet beyond these words, volumes have been left unsaid. With Above All Things, Tanis Rideout finally fills in this void, illuminating one of the great tragic adventure stories of the modern-day age."—David Grann, New York Times bestselling author of The Lost City of Z

"A superb addition to the fictional biography genre."—Library Journal

"Rideout's powerful prose evokes the scalpel-like sting of arctic winds and the bone-shattering cold of frigid mountain nights. Impeccably researched, Rideout's vividly authentic debut historical novel is a paean to the ability of love to conquer all but the highest mountains."—Booklist

"An elegant and well-researched novel."—The New York Observer

"Part love story, part high-octane adventure, this historical novel about doomed Everest climber George Mallory is a tough one to put down."—People

"Rideout's powerful prose about a tragic, brutal end will haunt you."—USA Today

"Gripping."—Parade

"[Rideout's] depiction of the Everest climb pulses with visceral detail."—Entertainment Weekly

"This vivid, assured, and confident debut novel scales great heights of obsession and desire, both on the face of Mount Everest and in the loving bond between doomed explorer George Mallory and his wife, Ruth."—Publishers Weekly

"Above All Things is part thrilling adventure, part moving love story and, in its entirety, beautifully written."—Examiner.com

"Truly mesmerizing, a powerful weaving of the tensions and heartaches of a marriage in conflict with an obsession…brilliantly told. It will take you up the slopes of Mount Everest, a climb so vividly described you will almost feel the biting wind, the intense cold, the great drama of an historic event. But this is more than an adventure tale. Above All Things takes the reader into the hearts of both Mallory and his wife as they struggle to understand each other and their own conflicted yearnings. A deeply satisfying blend of truth and imagination that stands out from the crowd."—Kate Alcott, author of The Dressmaker

"This magnificent novel, at once rugged and sensual, elaborates on George Mallory's assault on Everest in 1924, the ones who went, the ones who waited. Deeply felt, richly imagined, immaculately styled, and utterly compelling, Above All Things takes us to the heights of human experience and endurance, both in physical fortitude and erotic longing. Rideout brings us to the summit and back down, shaken but somehow saved by grace."—Robert Goolrick, author of A Reliable Wife and Heading Out to Wonderful

"Above All Things has it all: adventure, tragedy, mystery, and a deeply moving love story. It's gorgeously written and beautifully packed. I could not put it down. Prepare to be dazzled."—Allison Pick, author of Far to Go, long-listed for the Man Booker Prize

"A love story, a tale of adventure, and a study in obsession all at once, Above All Things is simply breathtaking. With Tanis Rideout's debut, a major new voice in fiction arrives."—Joseph Boyden, author of Through Black Spruce and Three Day Road