Midnight in Cairo: The Divas of Egypt's Roaring '20s (Hardcover)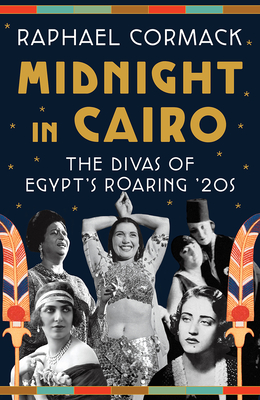 $28.95
Email or call for price
Description
---
A vibrant portrait of the talented and entrepreneurial women who defined an era in Cairo.
One of the world's most multicultural cities, twentieth-century Cairo was a magnet for the ambitious and talented. During the 1920s and '30s, a vibrant music, theater, film, and cabaret scene flourished, defining what it meant to be a "modern" Egyptian. Women came to dominate the Egyptian entertainment industry—as stars of the stage and screen but also as impresarias, entrepreneurs, owners, and promoters of a new and strikingly modern entertainment industry.
Raphael Cormack unveils the rich histories of independent, enterprising women like vaudeville star Rose al-Youssef (who launched one of Cairo's most important newspapers); nightclub singer Mounira al-Mahdiyya (the first woman to lead an Egyptian theater company) and her great rival, Oum Kalthoum (still venerated for her soulful lyrics); and other fabulous female stars of the interwar period, a time marked by excess and unheard-of freedom of expression. Buffeted by crosswinds of colonialism and nationalism, conservatism and liberalism, "religious" and "secular" values, patriarchy and feminism, this new generation of celebrities offered a new vision for women in Egypt and throughout the Middle East.
About the Author
---
Raphael Cormack is an award-winning editor and translator and has written on Arabic culture for the London Review of Books and elsewhere. He lives in Brooklyn, New York.
Praise For…
---
A book full of surprises. A lively story of women shaping gender, class, money, and national liberation.
— Ahdaf Soueif, author of Cairo: Memoir of a City Transformed

Social changes come about because people begin to reimagine everyday life. Raphael Cormack offers an intimate view of a place and a time when entertainment and politics were part of the same story: a Middle Eastern society's wrestling with the possibility of reinvention.
— Charles King, author of Midnight at the Pera Palace

Packed with pizzazz and fizzing with naughtiness, Midnight in Cairo is a thrilling reminder of the richness and wonder of Egyptian culture in the roaring '20s. Raphael Cormack plunges into the cafés, clubs, and cabarets of Cairo to put the leading ladies of Egyptian nightlife back where they belong: center stage.

— Justin Marozzi, author of Baghdad: City of Peace, City of Blood

Evoking large music halls and intimate cabarets, the air scented by Turkish hashish, throats lined with whisky and late nights fueled by cocaine, Midnight in Cairo is also the story of the struggles in Egypt for women's rights and against colonialism, for independence, suffrage and a New Egypt. Cairo's theatrical demimonde resisted and rebelled as enthusiastically as they entertained.

— Paul French, best-selling author of Midnight in Peking

An utterly unique book, teeming with vividly recounted stories, at times hilarious and at times tragic. These were true feminists avant la lettre who defied the societal norms and authorities of their time, both in Egypt and abroad. This inspiring gem of a book gripped me from beginning to end.
— Hanan al-Shaykh, author of Women of Sand and Myrrh

Important, insightful, and fascinating…Cormack highlights an important period in Egypt's modern history—almost unknown in the West—when its cosmopolitan culture was characterized by a tolerance of all races and religions…This is a must-read.
— Alaa Al Aswany, author of The Yacoubian Building

Beguiling and original—an unexpected story of powerful women and their no less powerful voices—on stage and behind the scenes.
— Marina Warner, coeditor of Scheherazade's Children: Global Encounters with the Arabian Nights