The Pelican Brief (Paperback)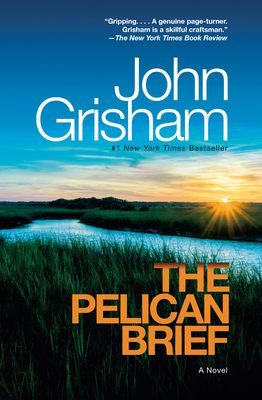 Description
---
#1 NEW YORK TIMES BEST SELLER • In suburban Georgetown a killer's Reeboks whisper on the front floor of a posh home... In a seedy D.C. porno house a patron is swiftly garroted to  death... The next day America learns that two of its Supreme Court justices have been assassinated. And in New Orleans, a young law student prepares a legal brief...

To Darby Shaw it was no more than a legal shot in the dark, a brilliant guess. To the Washington establishment it was political dynamite. Suddenly Darby is witness to a murder—a murder intended for her. Going underground, she finds there is only one person she can trust—an ambitious reporter after a newsbreak hotter than Watergate—to help her piece together the deadly puzzle. Somewhere between the bayous of Louisiana and the White House's inner sanctums, a violent cover-up is being engineered. For someone has read Darby's brief. Someone who will stop at nothing to destroy the evidence of an unthinkable crime.
About the Author
---
Born on February 8, 1955 in Jonesboro, Arkansas, John Grisham dreamed of being a professional baseball player. Realizing he didn't have the right stuff, he shifted gears and majored in accounting at Mississippi State University. He practiced law for nearly a decade in Southaven and served in the state House of Representatives until 1990. Inspired by the actual testimony in a rape case, Grisham got up at 5 a.m. every day to get in several hours of writing time before heading off to work. He spent three years on A Time to Kill; it was eventually bought by Wynwood press, who gave it a modest 5,000 copy printing and published it in June 1988. The day after Grisham completed A Time to Kill, he began work on another novel, the story of a hotshot young attorney lured to an apparently perfect law firm that was not what it appeared. Spending 47 weeks on The New York Times bestseller list, The Firm became the bestselling novel of 1991. Grisham lives with his wife and their two children. The family splits their time between their Victorian home on a farm in Mississippi and a plantation near Charlottesville, VA. When he's not writing, Grisham devotes time to charitable causes. He also keeps up with his greatest passion: baseball. The man who dreamed of being a professional baseball player now serves as the local Little League commissioner. The six ballfields he built on his property have played host to over 350 kids on 26 Little League teams.
Praise For…
---
"Gripping... a genuine page-turner. Grisham  is a skillful craftsman." -- The New  York Times Book Review.

"Grisham  has done it again!" -- Chicago  Tribune.

"A fast-paced thriller...  it's got the unmistakable Grisham style --  conspiracy in high places, evil and innocent lawyers,  assassins and a plot that will keep you reading into  the small hours of the morning." --  The Cincinnati Post.