Nancy and Plum (Paperback)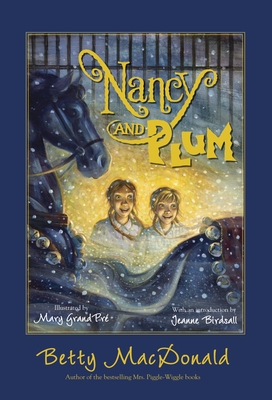 Description
---
It was Christmas Eve. Big snowflakes fluttered slowly through the air like white feathers
and made all of Heavenly Valley smooth and white and quiet and beautiful.

So begins the story of two orphaned sisters at Mrs. Monday's Boarding School. But nothing is heavenly for Nancy and Pamela (aka Plum): their parents died in a tragic accident years ago, they're constantly punished by the cruel Mrs. Monday, and they're all alone for the holidays.

Luckily, Nancy and Plum have each other, and though their prospects may be bleak, they're determined to change their lot for the better. If their plan works, the spirited sisters will never spend Christmas at the cold, dark boarding school again. But what will they find on the other side of Mrs. Monday's gate?

Adventure, warmth, unforgettable characters, and unexpected kindness abound in this classic story by Betty MacDonald, which was originally published in 1952. With illustrations by the acclaimed Mary GrandPré and an introduction by Jeanne Birdsall, National Book Award–winning author of The Penderwicks, this edition introduces the spunky, beloved heroines to a new generation of fans.
About the Author
---
Betty MacDonald was born Anne Elizabeth Campbell Bard in Boulder, Colorado, in 1908. The daughter of a mining engineer, she spent her early years in some of the mining towns of Idaho, Montana, and Mexico. When she was nine, her father took the family—his wife and five children—to Seattle, where Betty lived until shortly after her marriage.

Among her books for children are Nancy and Plum, originally published in 1952, and the beloved classics Mrs. Piggle-Wiggle, Mrs. Piggle-Wiggle's Magic, Mrs. Piggle-Wiggle's Farm, and Hello, Mrs. Piggle-Wiggle.
 
Mary GrandPré is perhaps best known for creating the jackets and illustrations for the Harry Potter books. She has also illustrated The Blue Shoe, a novel for young readers by Robert Townley, as well as many fine picture books, including Chin Yu Min and the Ginger Cat by Jennifer Armstrong and Lucia and the Light by Phyllis Root. You can read more about Mary GrandPré and her work at www.marygrandpre.com.