On the Come Up: A Novel, Based on a True Story (Paperback)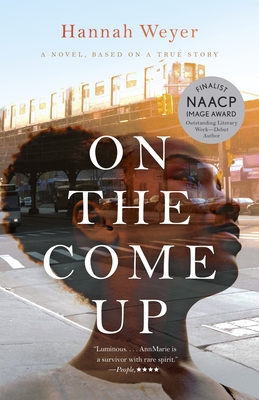 Description
---
An NAACP Image Award Finalist
An ALA/YALSA Alex Award Nominee

AnnMarie is growing up fast. After years of living in foster homes and homeless shelters, the twelve-year-old girl can take care of herself and her ailing mother. At thirteen, she's competing with other girls for the attention of older boys in the hip hop and rap scene of Far Rockaway.  At fourteen, she is in love and pregnant, but dreaming big. Taking a chance, she auditions for an independent film and—astonishingly—lands a lead role. As she tries to raise her baby girl and make sense of her relationship with her baby's father, her work on the movie offers AnnMarie a doorway to a wider world—Brooklyn, Manhattan, and the Sundance Film Festival.
 
With cinematic pacing and a vibrant voice, filmmaker Hannah Weyer's unforgettable debut novel is a portrait of a tough, determined teenage girl striving to find the life she wants and the love she deserves.
About the Author
---
Hannah Weyer is a filmmaker whose narrative and documentary films have been screened at the Human Rights Watch and the New York Film Festivals and have won awards at the Sundance, Locarno, Melbourne, Doubletake, and South by Southwest Film Festivals. Her screenwriting credits include Life Support (2007), directed by Nelson George, which earned a Golden Globe Award for its lead actress, Queen Latifah. Weyer has worked with teens in the media arts for the past fifteen years and, along with her husband, the filmmaker Jim McKay, started an after-school film club at a public high school in Brooklyn. On the Come Up is her first novel.
Praise For…
---
"Luminous. . . . AnnMarie is a survivor with rare spirit."
     —People, four stars

"I couldn't put this book down. This world, this voice, this young woman are all so vividly raw and honest, that my heart was broken open, and I was hooked until the very last page."
     —Kerry Washington, actress, Scandal

"Formidable. . . . A moving account of AnnMarie's struggle to free herself of her baby's poisonous father and leverage her experiences into a better life." —San Francisco Chronicle
 
"Weyer writes with confidence and agility, and readers will quickly sink into the groove of her storytelling." —The Wall Street Journal

"AnnMarie is a tenacious and lovable character. . . . Fans of Sapphire's Push will especially appreciate the honesty and realism of filmmaker and first-novelist Weyer's writing." —Booklist

"I fell in love with AnnMarie Walker, a hopeful and headstrong heroine who invents her own chances, turning the smallest opportunities into rare achievements. Here's a book for anyone who's ever seen the way the sun shines in a classroom they cannot enter and still wanted that light to shine on them. First you have to want it and this is how it's done, from victim to victor. A remarkable gift to readers." —Tupelo Hassman, author of Girlchild

"Pitch-perfect. It's impossible not to root for AnnMarie, a heroine as resilient as she is vulnerable. Weyer is a deeply humane writer who pulls the reader into an inner-city world that's utterly distinct, yet profoundly relatable." —Jonathan Odell, author of The Healing

"Vibrant. . . . Compassionate. . . . Inspiring . . . without losing its sharp, realistic edge." —Publishers Weekly