Sins of the Night: A Dark-Hunter Novel (Dark-Hunter Novels #7) (Mass Market)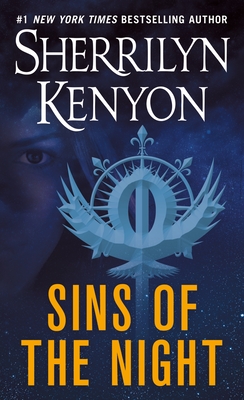 Other Books in Series
This is book number 7 in the Dark-Hunter Novels series.
Description
---
In the realm of the Dark-Hunters there is a code of honor that even immortal bad boys must follow:

Harm no human. Drink no blood. Never fall in love.

But every now and again a Dark-Hunter thinks himself above the Code. That's when I'm summoned. Who am I? I'm the one thing the fearless fear. Step over the line and it's my wrath you will face. Nothing can touch me. Nothing can sway me. I am relentless and unfeeling.

Or so I thought until I met a female Dark-Hunter who goes by the name of Danger-it's not just her name, it's how she lives her life. She doesn't trust me at all. And who could blame her? She alone knows that I'm here to be judge, jury and most likely executioner of her friends. Yet she is my key to saving some of them. Without her, they all will die.

Dangereuse St. Richard is a deadly distraction. Something about her is reawakening a heart I thought was long dead. But in a race against evil, the only hope mankind has is that I do my duty. And how can I do my duty when it means that I will have to sacrifice the only woman I've ever loved?
About the Author
---
Defying all odds is what #1 New York Times and international bestselling author Sherrilyn McQueen writing as Sherrilyn Kenyon does best. Rising from extreme poverty as a child that culminated in being a homeless mother with an infant, she has become one of the most popular and influential authors in the world (in both adult and YA fiction), with dedicated legions of fans known as Paladins--thousands of whom proudly sport tattoos from her numerous genre-defying series.

Since her first book debuted while she was still in college, she has placed more than 80 novels on the New York Times list in all formats and genres, including manga and graphic novels, and has more than 70 million books in print worldwide. Her series include: Dark-Hunters®, Chronicles of Nick®, Deadman's Cross™, Eve of Destruction™, Nevermore™, Lords of Avalon® and The League®.

Over the years, her Lords of Avalon® novels have been adapted by Marvel, and her Dark-Hunters® and Chronicles of Nick® are New York Times bestselling manga and comics and are #1 bestselling adult coloring books.
Praise For…
---
"Like a fine wine, this series just keeps getting better with age." - RT Book Reviews

"If you are looking to lose yourself in a fantasy, I highly recommend this world. There is a little something for everyone." - All About Romance