The Double Game (Paperback)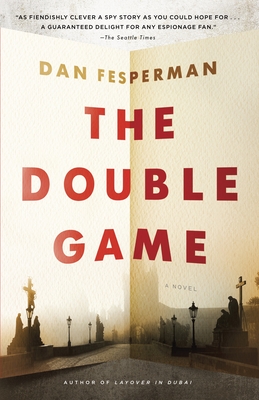 $16.95
Email or call for price
Description
---
From the acclaimed author of Layover in Dubai—the story of a journalist's journey to Vienna, Prague, and Budapest in search of the truth about a spy-turned-novelist's decades of dark secrets…

"As fiendishly clever a spy story as you could hope for…. A guaranteed delight for any espionage fan." —The Seattle Times

A few years before the fall of the Berlin Wall, spook-turned-novelist Edwin Lemaster reveals to up-and-coming journalist Bill Cage that he'd once considered spying for the enemy. For Cage, a fan who grew up as a Foreign Service brat in the very cities where Lemaster set his plots, the story creates a brief but embarrassing sensation. More than two decades later, Cage receives an anonymous note hinting that he should have dug deeper. Spiked with cryptic references to some of his and his father's favorite old spy novels, the note is the first piece of a puzzle that will lead Cage back to Vienna, Prague, and Budapest in search of the truth, even as he discovers that the ghosts of Lemaster's past eerily—and dangerously—still haunt the present. As the suspense steadily increases, decades of secrets begin to unravel….
About the Author
---
DAN FESPERMAN's travels as a writer have taken him to thirty countries and three war zones. Lie in the Dark won the Crime Writers' Association of Britain's John Creasey Memorial Dagger Award for best first crime novel, The Small Boat of Great Sorrows won their Ian Fleming Steel Dagger Award for best thriller, and The Prisoner of Guantánamo won the Dashiell Hammett Award from the International Association of Crime Writers. He lives in Baltimore.
Praise For…
---
A Seattle Times Best Mystery of the Year

A Times of London Best Crime/Thriller Book of the Year

"As fiendishly clever a spy story as you could hope for. . . . A guaranteed delight for any espionage fan." —The Seattle Times, "Best Mysteries of the Year"

"[The Double Game's] immersion in old-school espionage will thrill. . . . Fesperman is the most dependably entertaining, politically engaged writer you may never have heard of." —Richmond Times-Dispatch
 
"The Double Game is not just a spy novel—it's a love letter to the genre, renditioning the unwary reader and dropping him into a dizzying pastiche of classic espionage, cleverly woven into a thrilling story. Brilliantly executed and a joy from start to finish." —Olen Steinhauer, author of An American Spy
 
"Terrific. . . . A finely crafted espionage story and a dazzling homage to grand masters of spy fiction." —The Globe and Mail

"Fans of spy novels will find much to love in The Double Game. . . . [It's] clearly born of the author's desire not only to give you a satisfying read, but also (equally important) to share some of his favorite books with you."—Nancy Pearl, Morning Edition (NPR)

"Fesperman [is] . . . one of the most talented of the new generation of American spy writers… [He] provides genuine drama, laced with wit." —The Daily Mail

"An affectionate homage to the spy novel as well as a complex virtuoso performance in its own right." —The Times (London)

"Thrilling. . . . A spy novel about spy novels, calculated to deliver a maximum dose of fun for the genre fan. . . . Fesperman's book is a triple, quadruple, quintuple game." —The Daily Beast

 "A creative interplay with some of the best lines of classic spy fiction genre mixed with an original voice. This novel will immerse you in a clever and intriguing twist of plots and keep you a willing accomplice to the end." —Allison Bishop, International Spy Museum

"A beautifully written book [from] the highly accomplished Fesperman, a veteran of the sophisticated, literary novel of intrigue." —Publishers Weekly

"Fans of spy novels will enjoy Fesperman's affectionate homage." —Kirkus Reviews