The Sugar Season: A Year in the Life of Maple Syrup, and One Family's Quest for the Sweetest Harvest (Hardcover)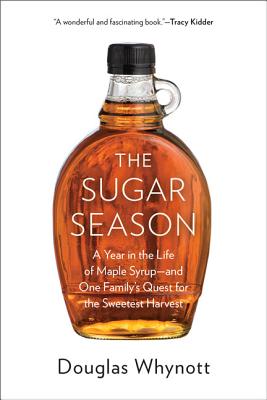 $24.99
Available to order - Usually arrives at our store in 1-5 days
Description
---
A year in the life of one New England family as they work to preserve an ancient, lucrative, and threatened agricultural art--the sweetest harvest, maple syrup . . .

How has one of America's oldest agricultural crafts evolved from a quaint enterprise with "sugar parties" and the delicacy "sugar on snow" to a modern industry?

At a sugarhouse owned by maple syrup entrepreneur Bruce Bascom, 80,000 gallons of sap are processed daily during winter's end. In The Sugar Season, Douglas Whynott follows Bascom through one tumultuous season, taking us deep into the sugarbush, where sunlight and sap are intimately related and the sound of the taps gives the woods a rhythm and a ring. Along the way, he reveals the inner workings of the multimillion-dollar maple sugar industry. Make no mistake, it's big business -- complete with a Maple Hall of Fame, a black market, a major syrup heist monitored by Homeland Security, a Canadian organization called The Federation, and a Global Strategic Reserve that's comparable to OPEC (fitting, since a barrel of maple syrup is worth more than a barrel of oil).

Whynott brings us to sugarhouses, were we learn the myriad subtle flavors of syrup and how it's assigned a grade. He examines the unusual biology of the maple tree that makes syrup possible and explores the maples' -- and the industry's -- chances for survival, highlighting a hot-button issue: how global warming is threatening our food supply. Experts predict that, by the end of this century, maple syrup production in the United States may suffer a drastic decline.

As buckets and wooden spouts give way to vacuum pumps and tubing, we see that even the best technology can't overcome warm nights in the middle of a season--and that only determined men like Bascom can continue to make a sweet like off of rugged land.
About the Author
---
Douglas Whynott is the critically acclaimed author of four nonfiction books. He has written articles and essays for The New York Times, The Boston Globe, Discover, Smithsonian, Outside, Islands, Reader's Digest, Yankee, and other publications. In True Stories, a history of literary journalism by Norman Sims published in 2008, Whynott is described as "an accomplished master of the literary journalism of everyday life."

His book about migratory commercial beekeepers, Following the Bloom, was published in 1991 by Stackpole Books, in 1992 by Beacon Press in the Concord Library Series, and in 2004 in a Penguin/Tarcher edition with a new preface and epilogue. It was optioned for development as a feature film. Giant Bluefin, his book about the New England bluefin tuna fishery, was published by Farrar, Straus & Giroux in hardcover in 1995 and North Point Press in paperback in 1996. It was a highly recommended selection in the New York Review of Books Reader's Catalog and was reviewed widely, including a feature on NPR's All Things Considered. A Unit of Water, A Unit of Time, a book about a boatyard in Maine owned by the son of E. B. White, was an independent bookstore bestseller, and was read in its entirety on an NPR books program at the affiliate in Ames, Iowa. It was published by Doubleday in 1999, by Washington Square Press in 2000. Australian rights were purchased by Hodder Headline. A Country Practice, his book about a veterinary clinic and a woman just out of vet school, was published by North Point Press in 2004. It was optioned for development as a television series by Creative Convergence, and selected as one of the best ten nonfiction books of 2004 by New Hampshire Public Radio.

Whynott has taught writing and literature at the University of Massachusetts, Mount Holyoke College, and Columbia University. He is currently an associate professor of writing in the Writing, Literature and Publishing Program at Emerson College, where he served as director of the MFA program from 2002-2009. He received a Fulbright Fellowship to teach at the University of the Andes, Bogota, Colombia in the spring of 2013. In addition to his writing and teaching, he has been at different times a concert piano tuner, a dolphin trainer, a commercial fisherman, and a boogie-woogie pianist. Whynott is an eleventh generation Cape Codder. He lives in Langdon, a small town in southwestern New Hampshire.
Praise For…
---
"What began as a curious search to uncover the mechanics and marketing of maple syrup turns, in his calm telling, into a case study of how venerable family enterprises deal with an uncertain future…Parts of this tale recall John McPhee's fact-laden reports about our earth and those who seek to comprehend its hidden components."
Winnipeg Free Press, 3/1/14
"There are many flavours in this affectionate look at the maple-syrup industry in the United States, along with a light taste of the Canadian flow…
The Sugar Season
includes nostalgia, family histories, business competition, technological development, the free-market approach of the U.S. (compared to the marketing-board approach of Quebec) and, as a disturbing subtext, environmental concern…
The Sugar Season
does a good job of taking us from the days of tin buckets and wooden spouts to vacuum pumps and tubing, also providing readers with a look to the future…[Whynott] makes you pause and appreciate a nibble on a maple leaf sugar candy."
Saveur, 3/6/14
"A closely observed portrait of a largely unknown world—one that is full of interesting characters who have devoted their lives to transforming an intensely seasonal crop into a global commodity…it's a smart, engrossing read that gives this sweet crop—one of America's oldest agricultural products—its full due."—
-
"Whynott examines both the complicated past of the maple syrup industry and questions about its future…In a world where one barrel of syrup is worth more than a barrel of oil, Whynott's descriptions of black market dealings and syrup heists highlight the value of this sweet crop…Balancing the global history of the maple syrup trade with its local impact, The Sugar Season immerses readers in a reading experience both historical and personal in nature."
Publishers Weekly, 2/21/2014
"This inside look at the ups and downs of the maple syrup industry over its year-long harvesting and production cycle will be fascinating to anyone interested in the modern food industry, the effect of global warming on agriculture, and just how that sweet syrup got from a stand of sugar maples to the breakfast table…Enlightening and alarming."
Minneapolis Star Tribune, 3/9/14
"Tells the story of the annual sap run, when the cycle of warming daytime temperatures and nighttime freezes triggers the movement of sap in the sugar maples. Despite growth and technological advances, it remains such an elemental story—of trees and their biology, of children working alongside grandparents, of steam and sparks in the sugar house in the overnight boiling down of the sap…Lyrical history, geography and insights into family life centered around a demanding business."
—
-Beverly Citizen, 3/15/14
"[A] fascinating exploration of the maple syrup industry…Part business case study and part John McPhee nonfiction adventure into the depths of a subject—as told by a host of driven, devoted and talented characters. Whynott's comprehensive lay of the land includes climate change, the transformation of syrup production into a bankable industry, the interdependent community of syrup makers, the forests and their health, the process of making syrup and the complexity of the syrup itself."
Easthampton Valley Advocate (Ma), 3/13/14
"Shows the business of maple sugaring as a sophisticated, complex industry, subject, like all industries, to market forces and circumstances beyond producers' control."
Toronto Globe and Mail, 3/22/14
"Provides keen insights into this particular branch of modern agriculture, and makes a strong case for maple syrup as a bellwether for the continent's environmental health."
The Writer, May 2014
"An in-depth contemplation of the maple syrup industry."—
-Boston Globe, 3/5/14
"A wide-ranging look inside the maple syrup business…Whynott skillfully explains how maple syrup gets made, how vitally important weather is, and how global warming may threaten the industry's future…Whynott's engaging book offers a skillful and fascinating peek behind the curtain of one of the region's oldest and most beloved traditional industries."
Boston Globe, 3/10/14
"Whynott offers scores of statistics while keeping his narrative focused squarely on the people who labor in the sugarhouses that dot the New England Landscape."
New York Post, 3/2/14
"While focusing on New Hampshire's Bascom family, who've been producing maple syrup since 1853, Whynott details a multimillion-dollar industry with its own hall of fame, a black market and an OPEC-like organization. And if you've ever wondered how reverse osmosis figures in maple syrup, you'll find out here."
Taste for Life, March 2014
"Offers a glimpse into one of the oldest agricultural crafts in the US and the challenges it faces."
PopMatters.com, 3/4/14
—
-Keene Sentinel, 4/6/14
"[Whynott] introduces readers to many of Bascom's neighbors, maple syrup makers who produce it in the wood-fired mom-and-pop traditions of quintessential New Hampshire. The book doesn't hide the sour side of the industry or even the Bascom family warts."
Berkeley Beacon, 4/3/14
"Sheds light on the underappreciated maple syrup industry…[Whynott's] words bring the reader to the sugarhouses, making the importance of maple syrup a relatable topic for anyone."
San Francisco Book Review, 4/11/14
"[Whynott] takes us through the entire process from sapling to store shelf, from how it was done in the past to the current process…I was amazed how easily Whynott provided an educational experience with the feel of a heartfelt memoir…This book is just too delicious to pass up."
Greenfield Recorder, 4/12/14
"Whynott spins a riveting tale…He convincingly argues that because of its dependence on individual trees and temperatures, the maple business may be closer to nature than most other enterprises."
Digital Americana, Winter 2014
"One of those rare texts that makes you want to know more about the subject that you are being told about…The story that Whynott presents to us is an inherently American one."—
-CivilEats.com, 6/19/14
"[Whynott] is a master of observation and description, who combines just the right amount of romanticism and humor with research and facts…An intricate, information-packed story. There is also a whole lot of drama and international intrigue…But the book also looks at the richness within life as a maple farmer: the multigenerational traditions and history, the community building and friendships, and the beauty of the forest and ecological respect for the tree…
The Sugar Season
serves as a thorough, hard-hitting example of the ripple effect climate change and pollution can and will have."
Arcadiana Lifestyle, October 2014
"Offer[s] ways to wean yourself off that sweet stuff."
Yankee Magazine, December 2014
"A terrific read, with many intriguing facts about botany, technology, and international business. But it's also the story of people doing what they love in a place they love."—
-Keene Sentinel, 4/13/2014
"Whynott's deft hand makes
The Sugar Season
an admiring book about a hard-working, imaginative, determined family building an ancient rite of spring into a thriving, honorable life with nature...[An] eye-opening, behind-the-scene book."
Green Book Festival, 2014 Award Winner, General Nonfiction CategoryVermont Country SamplerApril 2014
"To understand what could happen this year and the years to come—for better or worse—read
The Sugar Season
."
The Hippo, 3/13/14
"[Whynott] keeps the book interesting with a family narrative."
VegNews, August 2014
"An engaging and heartwarming read of the maple syrup business."
Washington Independent Review of Books, 7/23/14
"A remarkable ode to the evolution of the maple sugar industry, from its humble beginnings to today's multibillion-dollar foothold in the world economy. It's a peek behind the curtain to the world of maple sugaring that exists beyond the rustic facade…Whynott provides a compelling overview into an industry entering the 21st century with head-spinning technological advances."—
-Shelf Awareness for Readers, 3/14/14
"Whynott delves into the industry's particulars, shining light on its history, science and politics. Whynott's love for his subject is clear; his writing grows lyrical when he rhapsodizes about winter walks in the woods or the taste of pure maple syrup fresh off the boil… A fascinating glimpse into an ancient process that feeds a thoroughly modern industry."
Roanoke Times, 3/9/14
"Pass me the doughboys and a bottle of Grade A Light Amber, please."
Hudson Valley News, 3/5/14
"Delightful…This fascinating book tells us what we need to know about an undertaking that is steeped in tradition and is now embracing new technologies that can ensure its continuing existence. It's a sweet read."
Manchester Union-Leader, 3/8/14
"Tells the story of the 2012 sugar season as well as Bascom's rise to being the largest maple syrup producer in the Granite State."
InfoDad, 3/13/14
"An enthralling exploration of the maple-syrup industry and the people who keep this very old occupation (by American standards) going in the 21st century…Intriguing and engaging."—
-

"The cycle of the maple season is one of the great signifiers of the mountain year in the northeast. It is lovingly delineated here, with a foreshadowing of the shifts ahead in a changing world. May it move us to action!"—Bill McKibben, author of Oil and Honey

"Whynott has delivered the most complete and compelling account to date of the modern maple industry. His cast of vividly drawn characters and his descriptions of the challenges they overcome will make you feel like you're right there beside them in the North Country's sugarbushes. It's one sweet read."—Barry Estabrook, author of Tomatoland

"Once again, Douglas Whynott demonstrates his uncanny ability to open up what seems to be ordinary and reveal it as something much more than we ever could have imagined. In this case, it's the maple syrup industry, and Whynott take us from the metal bucket hanging on a tree into a world of currency bets, Global Strategic Reserves, climate change, and international trade. It's quite a story, and quite a book."—Daniel Okrent, author of Last Call: The Rise and Fall of Prohibition

Kirkus Reviews, 1/15/2014
"Thorough research provides fascinating insight into the sweet business of maple syrup."

Library Journal, 3/1/2014—-