Marvelous Possessions: The Wonder of the New World (Carpenter Lectures) (Paperback)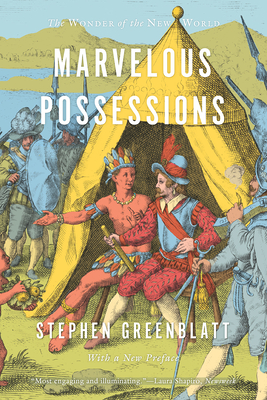 Email or call for price.
Available to order - Usually arrives at our store in 1-5 days
Description
---
A masterwork of history and cultural studies, Marvelous Possessions is a brilliant meditation on the interconnected ways in which Europeans of the Age of Discovery represented non-European peoples and took possession of their lands, particularly in the New World. In a series of innovative readings of travel narratives, judicial documents, and official reports, Stephen Greenblatt shows that the experience of the marvelous, central to both art and philosophy, was manipulated by Columbus and others in the service of colonial appropriation. Much more than simply a collection of the odd and exotic, Marvelous Possessions is both a highly original extension of Greenblatt's thinking on a subject that has permeated his career and a thrilling tale of wandering, kidnapping, and go-betweens—of daring improvisation, betrayal, and violence. Reaching back to the ancient Greeks, forward to the present, and, in his new preface, even to fantastical meetings between humans and aliens in movies like Close Encounters of the Third Kind, Greenblatt would have us ask: How is it possible, in a time of disorientation, hatred of the other, and possessiveness, to keep the capacity for wonder—for tolerant recognition of cultural difference—from being poisoned?
About the Author
---
Stephen Greenblatt is the John Cogan University Professor of the Humanities at Harvard University. He is the author of many books, including the groundbreaking Renaissance Self-Fashioning, also published by the University of Chicago Press, Will in the World: How Shakespeare Became Shakespeare, and The Swerve: How the World Became Modern, winner of the Pulitzer Prize and the National Book Award.
Praise For…
---
"A marvelous book. It is also a compelling and a powerful one. Nothing so original has ever been written on European responses to 'the wonder of the New World.'"
— Anthony Pagden
"By far the most intellectually gripping and penetrating discussion of the relationship between intruders and natives is provided by Greenblatt's Marvelous Possessions. Nothing else in the entire literature of the quincentennial remotely approaches his vivid engagement with the crucial issue of cross-cultural perceptions."
— Simon Schama
"Greenblatt writes with sophistication, wit, and considerable grace. I was intrigued throughout by the many flavors of his erudition, intelligence, and style."
— Ronald Wright
"A witty and erudite study of early American explorers and their sensibilities. . . . Greenblatt's deft handling of intellectual baggage is a special gift, but his clear, quick, pungent re-creation of specific people and events in this context is remarkable."
— Kirkus Reviews
"For the most engaging and illuminating perspective of all, read Marvelous Possessions."
— Laura Shapiro