The French Revolution (Oxford World's Classics) (Paperback)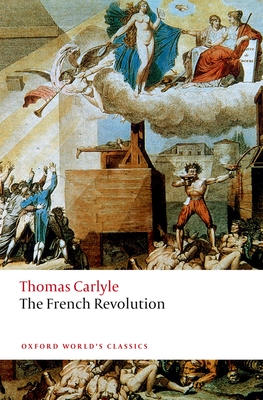 $18.95
Email or call for price
Description
---
Thomas Carlyle's history of the French Revolution opens with the death of Louis XV in 1774 and ends with Napoleon suppressing the insurrection of the 13th Vendemaire. Both in its form and content, the work was intended as a revolt against history writing itself, with Carlyle exploding the
eighteenth-century conventions of dignified gentlemanly discourse. Immersing himself in his French sources with unprecedented imaginative and intellectual engagement, he recreates the upheaval in a language that evokes the chaotic atmosphere of the events. In the French Revolution Carlyle achieves
the most vivid historical reconstruction of the crisis of his, or any other, age. This new edition offers an authoritative text, a comprehensive record of Carlyle's French, English, and German sources, a select bibliography of editions, related writings, and critical studies, chronologies of both Thomas Carlyle and the French Revolution, and a new and full index. In addition,
Carlyle's work is placed in the context of both British and European history and writing, and linked to a variety of major figures, including Edward Gibbon, Friedrich Nietzsche, George Eliot, John Stuart Mill, Hegel, and R. G. Collingwood.

About the Author
---
David R. Sorensen is Professor of English at Saint Joseph's University and Associate Director of its Honors Program. He is a senior editor of the Duke-Edinburgh Collected Letters of Thomas and Jane Welsh Carlyle (1970-ongoing), and has edited with K. J. Fielding, Carlyle's The French Revolution(Oxford, 1989) and Jane Carlyle: New Selected Letters (Ashgate, 2004), with Rodger L. Tarr, The Carlyles at Home and Abroad (Ashgate, 2004), and with Brent E. Kinser, Carlyle's On Heroes and Hero-Worship (Yale, 2013). He is co-editor of Carlyle Studies Annual and a founding director of the VictorianLives and Letters Consortium. Brent E. Kinser is Professor of English and department Head at Western Carolina University. He is the author of The American Civil War and the Shaping of British Democracy (Ashgate, 2011), and the coordinating editor of The Carlyle Letters Online, the electronic edition of The Collected Letters ofThomas and Jane Welsh Carlyle, for which he serves as an editor. He is co-editor (with David R. Sorensen) of Carlyle's On Heroes, Hero-Worship, and the Heroic in History (New Haven, 2013) He is co-editor Carlyle Studies Annual and a founding director of the Victorian Lives and Letters Consortium. Mark Engel is a professional editor and independent scholar. He has edited with Michael K. Goldberg and Joel J. Brattin, Carlyle's On, Heroes, Hero-Worship, and the Heroic in History (Berkeley, 1993) and with Rodger L. Tarr, Sartor Resartus (Berkeley, 2000).