A Sister in My House: A Novel (Paperback)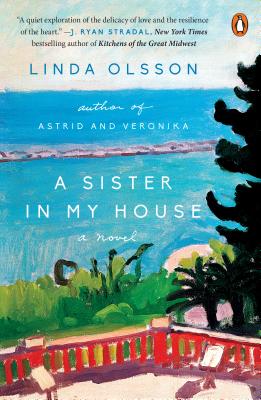 Staff Reviews
---
Maria has created a sanctuary in a rented home overlooking a small Spanish village by the sea. Her solitude is disrupted by the arrival of her sister, Emma. In 6 chapters, Olsson describes the 6 day visit. Beautiful sparse writing and seering insight bring this novel to life. Reads like a meditation. If you love this like I did, be sure to pick up Astrid and Veronika and Sonata for Miriam.
— From
Wendee
Description
---
From the acclaimed author of Astrid & Veronika, a lyrical novel of two sisters bound together by a tragic moment from their past.       
 
Maria and Emma have not seen each other since their mother's funeral two years ago. But now, Emma has come to visit Maria at her house in Spain, an unsettling intrusion on Maria's quiet and solitary life. Over six days in the seaside town, the sisters cautiously recount the years of their separate adult lives. Their walks through the quiet town and evening talks on the terrace reveal almost more than Maria can deal with, until finally, the sisters confront their unspeakable family history.

A Sister in My House is a compelling drama of grief and betrayal, but ultimately it is a story of hope and forgiveness.
About the Author
---
Linda Olsson was born in Stockholm, Sweden in 1948. She graduated from the University of Stockholm with a law degree. In 1993 she completed a bachelor of arts in English and German literature at Victoria University of Wellington. Her first novel, Astrid & Veronika, became an international success. It was followed by Sonata for Miriam and The Memory of Love. Olsson divides her time between Auckland, New Zealand and Stockholm, Sweden.
Praise For…
---
"A compelling, emotional journey of two estranged sisters who drive each other to confront their deepest vulnerabilities, A Sister In My House is a quiet exploration of the delicacy of love and the resilience of the heart."—J. Ryan Stradal, New York Times bestselling author of Kitchens of the Great Midwest
 
"I was drawn in by the first sentence. This beautifully written novel pinpoints the evasive, unique, poignant (and often painful) relationship between sisters. Yet there is also more. Linda Olsson's lyrical imagination placed me right there so that I walked the streets of that Spanish town with the two protagonists, breathing in their air, their hopes and their fears as the mysteries unfolded. Unputdownable."—Jane Corry, author of My Husband's Wife and Blood Sisters

"Olsson's novel unfolds […] in conversations between the two sisters. They are wary at first, but as they talk, they chip away at decades of accumulated misperception, heartbreak, and guilt to reveal the sources of their deepest scars… Irresistible." —Booklist

"Using spare prose and keen insight, Olsson how two estranged sisters come together and face difficult elements of their shared past."—Publishers Weekly

"This story of sisterly ambivalence—and love—rings movingly true."—Kirkus Reviews


Praise for Astrid & Veronika

"Natural and vivid, utterly convincing... simply so beguiling."—The New York Times

"Readers of Anne Tyler and Jodi Picoult will appreciate the lyrical prose and expert rendering of the themes of heartbreakk and loss."—Booklist

"Has the hallmarks of an Ingmar Bergman film... a chilly Scandinavian setting leavened by rich observations of nature, and characters whose prim, polite facades eventually disappear, exposing years of anger and hurt."—Kirkus Reviews

"Linda Olsson evokes, with great beauty and precision, the landscape of a friendship between two very different women, each caught in a tragic moment from the past. Their connection, initially as tentative and fragile as the first filaments of ice, gradually strengthens, allowing each woman to give voice to her stories, and in doing so to reclaim 'a heart for beauty.' Subtle, penetrating, and beautifully written, Astrid and Veronika affirms the power of narrative to transform."—Kim Edwards, New York Times bestselling author of The Memory Keeper's Daughter

"Beautiful and deeply affecting. A dreamlike evocation of the power of friendship."—Mary McGarry Morris, author of Songs in Ordinary Time

"Not only impossible to put down, but impossible to forget."—Canvas, New Zealand

"Linda Olsson unravels . . . each woman's story . . . gradually revealing their grief and loss. . . . This a subtle but powerful novel, tender and poignant."—The Dominion Post, New Zealand