French Exit: A Novel (Hardcover)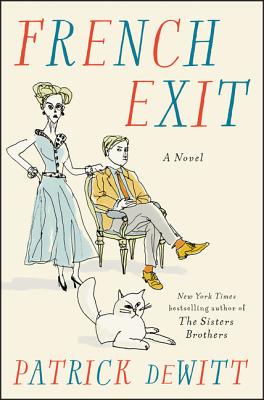 $25.99
Usually Ships in 1-5 Days
Staff Reviews
---
A farcical romp through elite privilege gone awry, and that doesn't fail to entertain. Patrick deWitt is a master at depicting the scene behind the scene, the one we all want to see. Frances Price is a gorgeous NY socialite, who may or may not be the killer of her late husband Franklin, the man who now embodies small Frank, the house cat. Malcolm is the eccentric sulking progeny who at times turns admonishes and sustains Frances. When inheritance money runs dry, the trio flees to Paris on a last run adventure.
— From
Janis
September 2018 Indie Next List
---
"Quirky, wry, darkly witty, strange, and absolutely laugh-out-loud hilarious, Patrick deWitt's French Exit is the perfect remedy for those seeking a respite from the plethora of WWII historical fiction and genre thrillers out there. In deWitt's depiction of dysfunctional families at their absolute oddest, Malcom Price, his doting mother, Frances, and their cat, Little Frank, abandon New York City practically penniless and scurry off to Paris, where things only get stranger. Every page turned leaves the reader wondering what in the world they will do next. What a breath of fresh air is French Exit! Keep them coming, Patrick deWitt!"
— Angie Tally, Country Bookshop, ,
Description
---
National Bestseller
NAMED A RECOMMENDED BOOK OF THE SEASON BY:
Vanity Fair • Entertainment Weekly • Vulture • The Millions • Publishers Weekly • Esquire • San Francisco Chronicle • USA Today • Parade • The Washington Post • Buzzfeed 
From bestselling author Patrick deWitt, a brilliant and darkly comic novel about a wealthy widow and her adult son who flee New York for Paris in the wake of scandal and financial disintegration.
Frances Price – tart widow, possessive mother, and Upper East Side force of nature – is in dire straits, beset by scandal and impending bankruptcy. Her adult son Malcolm is no help, mired in a permanent state of arrested development. And then there's the Price's aging cat, Small Frank, who Frances believes houses the spirit of her late husband, an infamously immoral litigator and world-class cad whose gruesome tabloid death rendered Frances and Malcolm social outcasts.
Putting penury and pariahdom behind them, the family decides to cut their losses and head for the exit. One ocean voyage later, the curious trio land in their beloved Paris, the City of Light serving as a backdrop not for love or romance, but self destruction and economical ruin – to riotous effect. A number of singular characters serve to round out the cast: a bashful private investigator, an aimless psychic proposing a seance, and a doctor who makes house calls with his wine merchant in tow, to name a few.  
Brimming with pathos, French Exit is a one-of-a-kind 'tragedy of manners,' a send-up of high society, as well as a moving mother/son caper which only Patrick deWitt could conceive and execute. 
About the Author
---
Patrick deWitt is the author of the critically acclaimed Ablutions: Notes for a Novel, as well as the novels Undermajordomo Minor and The Sisters Brothers, which was short-listed for the Man Booker Prize. Born in British Columbia, Canada, he has also lived in California and Washington, and now resides in Portland, Oregon.
Praise For…
---
"A sparkling dark comedy.... DeWitt's tone is breezy, droll, and blithely transgressive.... These are people you may not want to invite to dinner, but they sure make for fun reading."
— NPR

"The comic brilliance that sparked deWitt's earlier adventures ignites this 'tragedy of manners' and Frances Price, 'a moneyed, striking woman of sixty-five years,' is revealed to be another of deWitt's sublime eccentrics.... Rarely has a transatlantic voyage and its limited diversions been so pithily evoked."
— Washington Post

"A modern story, a satire about an insouciant widow on a quest for refined self-immolation.... DeWitt's surrealism is cheerful and matter-of-fact, making the novel feel as buoyantly insane as its characters.... DeWitt is a stealth absurdist, with a flair for dressing up rhyme as reason."
— The New Yorker

"A cross between a Feydeau farce (fitting, given that the location of most of the novel is Paris) and a Buñuel film, as one after another in an eccentric cast of characters is introduced.... DeWitt is in possession of a fresh, lively voice that surprises at every turn."
— Kate Atkinson, Vanity Fair

"Hilarious... Delightful.... In his book, as in [Edith] Wharton's, New Yorkers' wit and elaborate manners cannot hide the searing depth of their pain.... DeWitt is aiming for farce and to say something about characters who cannot get out of their own way, and he achieves both with élan."
— Minneapolis Star Tribune

"Darkly comic, perfectly brilliant... Let deWitt take you along on this dizzying, wild ride, you'll love every second of it, and then hop back to the beginning for another go. It's worth the trip."
— Nylon Magazine

"Imposing widow Frances Price and her grown son Malcolm go from wealthy to broke and from Manhattan to Paris in this smart, tartly funny novel."
— People

"[A] riotous tragedy of (ill) manners....  The show stealer here is deWitt's knack for scene setting and dialogue in the form of Frances' wry one-liners.... That Frances sure is a force to contend with. But what a classy broad."
— San Francisco Chronicle

"Whatever you do, don't mess with Frances Price.... An entertaining portrait of people who are obsessed with the looming specter of death and who don't quite feel part of the time they were born into."
— BookPage

"I will read every book Patrick deWitt writes.... He casts black humor and surrealist streaks of magic onto familiar literary terrains. French Exit's Manhattan milieu evokes midcentury writers like Salinger and Cheever.... DeWitt's writing is always intriguingly off-center."
— Poets & Writers

"[DeWitt] creates and conveys entire worlds — and not just names and places, but colors, smells, sounds and style.... Incredibly entertaining and oddly sympathetic.... And snappy stage-worthy dialogue — deWitt's wheelhouse."
— Eugene Register-Guard

"Darkly comic.... French Exit is both a satiric send-up of high society and a wilding mother-son caper."
— Poets & Writers

"Sharply observed moments give deWitt's well-written novel more depth than the usual comedy of manners—a depth reinforced by the exit that closes the tale, sharp object and all. Reminiscent at points of The Ginger Man but in the end a bright, original yarn with a surprising twist."
— Kirkus Reviews

"The first time I read French Exit, I raced through, impatient to know the fates of its characters. Then I turned back to page one to enjoy Patrick deWitt's understated satire and casually brutal wit."
— Nell Zink, author of Mislaid and Nicotine

"'My favorite book of his yet. The dialogue is dizzyingly good, the world so weird and fresh. A triumph from a writer truly in the zone."
— Maria Semple, author of Where'd You Go, Bernadette and Today Will Be Different

"French Exit made me so happy—I feel as if I have downed a third martini, stayed up past sunrise, and still woken up refreshed. Brilliant, addictive, funny and wise, DeWitt's latest has enough charm to last you long after you've put it down."
— Andrew Sean Greer, Pulitzer Prize-winning author of Less