Search and shop for books
Record of a Spaceborn Few (Wayfarers #3) (Paperback)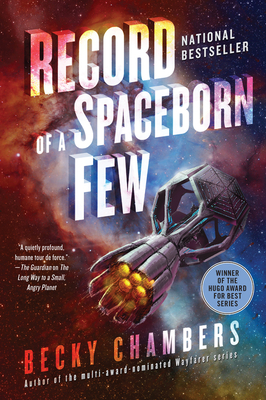 $16.99
Usually Ships in 1-5 Days
Staff Reviews
---
The latest installment in Chambers' loosely associated Wayfarers series, Record of a Spaceborn Few focuses on the survivors of Earth, who have built enormous ships and a complicated culture to escape from our dying planet. Like her previous two, this book is full of rich characters--of both the human and alien variety--intricately woven together in a heartwarming, utterly human story.
— From
Melanie
Description
---
Return to the sprawling universe of the Galactic Commons, as humans, artificial intelligence, aliens, and some beings yet undiscovered explore what it means to be a community in this exciting third adventure in the acclaimed and multi-award-nominated science fiction Wayfarers series, brimming with heartwarming characters and dazzling space adventure.
Hundreds of years ago, the last humans on Earth boarded the Exodus Fleet in search of a new home among the stars. After centuries spent wandering empty space, their descendants were eventually accepted by the well-established species that govern the Milky Way.
But that was long ago. Today, the Exodus Fleet is a living relic, the birthplace of many, yet a place few outsiders have ever visited. While the Exodans take great pride in their original community and traditions, their culture has been influenced by others beyond their bulkheads. As many Exodans leave for alien cities or terrestrial colonies, those who remain are left to ponder their own lives and futures: What is the purpose of a ship that has reached its destination? Why remain in space when there are habitable worlds available to live? What is the price of sustaining their carefully balanced way of life—and is it worth saving at all?
A young apprentice, a lifelong spacer with young children, a planet-raised traveler, an alien academic, a caretaker for the dead, and an Archivist whose mission is to ensure no one's story is forgotten, wrestle with these profound universal questions. The answers may seem small on the galactic scale, but to these individuals, it could mean everything.
About the Author
---
Becky Chambers was raised in California as the progeny of an astrobiology educator, an aerospace engineer, and an Apollo-era rocket scientist. An inevitable space enthusiast, she made the obvious choice of studying performing arts. After a few years in theater administration, she shifted her focus toward writing. Her creative work has appeared at The Mary Sue, Tor.com, Five Out Of Ten, The Toast, and Pornokitsch. The Long Way to a Small, Angry Planet is her first novel, and was funded in 2012 thanks to a successful Kickstarter campaign.
After living in Scotland and Iceland, Becky is now back in her home state, where she lives with her partner. She is an ardent proponent of video and tabletop games, and enjoys spending time in nature. She hopes to see Earth from orbit one day.
Praise For…
---
"This is a superb work from one of the genre's rising stars."
— Publishers Weekly (starred review)

"I deeply appreciate Chambers' science fiction, and I really enjoyed this novel. Quiet, kind, character-driven books are wonderfully restful. Delightfully soothing."
— Tor.com

"This series is a rare gem within the sci-fi genre [...] Chambers' writing pulls you in, making it impossible not to imagine living in her brilliantly crafted universe."
— POMEmag

"Chambers' books are celebrated for their warmth, compassion, and diverse characters, but it's also worth noting that her worldbuilding is top-notch; it's a delight to spend more time in this universe."
— B&N Sci-Fi & Fantasy Blog