We Live in Water: Stories (Paperback)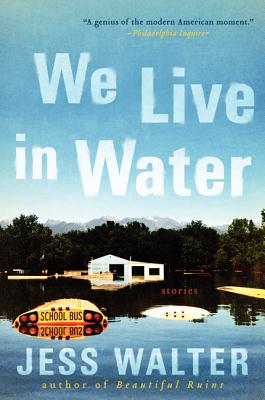 $14.99
Usually Ships in 1-5 Days
Staff Reviews
---
My favorite short story collection. Set in the NW, Spokane to Seattle. Imaginative, small town grittiness and apocalyptic city craziness. Will appeal to those with limited time to read yet enjoy a literary chunk when they sit down.
— Janis
March 2013 Indie Next List
---
"I defy any reader to pick up this amazing collection of stories and not want to read every book Jess Walter has ever written. His writing is staggeringly good. I found myself reading long into the night, not wanting to miss a word."
— Suzanna Hermans, Oblong Books & Music, Rhinebeck, NY
Description
---
From New York Times bestselling author, the first collection of short fiction from Jess Walter—a suite of diverse and searching stories about personal struggle and diminished dreams, all of them marked by the wry wit, keen eye, and generosity of spirit that has made him a bookseller and reader favorite
Stories in We Live in Water range from comic tales of love to social satire and suspenseful crime fiction. Traveling from hip Portland to once-hip Seattle to never-hip Spokane, to a condemned casino in Las Vegas and a bottomless lake in the dark woods of Idaho, this is a world of lost fathers and redemptive con men, of personal struggles and diminished dreams.
In title story "We Live in Water", a lawyer returns to his corrupt hometown to find his father, who disappeared 30 years earlier. In "Thief," a blue-collar worker turns unlikely detective to find out which of his kids is stealing from the family fund.
"Anything Helps" sees a homeless man try to raise money to buy his son the new Harry Potter book; and in "Virgo," a newspaper editor attempts to get back at his superstitious ex-girlfriend by screwing with her horoscope.
Also included are "Don't Eat Cat" and "Statistical Abstract of My Hometown, Spokane, Washington," both of which achieved cult status after their first publication online.
About the Author
---
Jess Walter is the author of six novels, including the bestsellers Beautiful Ruins and The Financial Lives of the Poets, the National Book Award finalist The Zero, and Citizen Vince, the winner of the Edgar Award for best novel. His short fiction has appeared in Harper's, McSweeney's, and Playboy, as well as The Best American Short Stories and The Best American Nonrequired Reading. He lives in his hometown of Spokane, Washington.
Praise For…
---
"Walter is a bighearted man who excels at writing about other bighearted, if broken, men. That generosity of spirit coupled with Walter's seeming inability to look away from the messy bits, elevates these stories from dirges to symphonies."
— New York Times Book Review

"Walter (Beautiful Ruins) writes-beautifully. . . . Darkly funny, sneakily sad, these stories are very, very good. The algorithm for this debut collection is straightforward: if you like to read, you'll like this book."
— Publishers Weekly, starred review

"Jess Walter, who is revered for his novels, shows a gritty side in these clear-cut stories... Each word is perfectly placed...[Walter] brings his first story collection to a smashing end."
— Daily Beast

"Mr. Walter brings (his) outlook to short-story writing easily, and with a vengeance… His most bleakly funny, hard-edge book in years."
— Janet Maslin, New York Times

"This badass collection aligns itself... with Walter's gritty, bighearted novels."
— Esquire

"[Walter] can mine the least scintilla of humor and wit from his characters' broken lives--people whose dreams will surely not come true but who somehow keep trying."
— Shelf Awareness

"Brims with humanity. A-"
— Entertainment Weekly

"Wildly entertaining and thought-provoking fiction from a prodigiously talented writer."
— Booklist

"This debut story collection from Walter proves he's as skilled at satire and class commentary in the short form as in his novels…A witty and sobering snapshot of recession-era America."
— Kirkus Reviews, starred review

"Walter's got a great ear and a genius for sympathy with America's new dispossessed."
— NPR's All Things Considered

"Deliver[s] unexpected laughs while playing with what it is we think we know…As a reader, I delight in Walter's work. As a writer (humor me here), I curse. He's so freakishly, fiendishly good, it isn't fair."
— Seattle Times

"With a cineaste's eye, [Walter] mov[es] the action at a terrific pace, such velocity and narrative swing…What he makes us understand is bracing, clear. Fiction or no, it is here we see Walter as trusted interlocutor, saying, let me show you, this is where we are now."
— The Oregonian (Portland)

"It is perhaps a grim and fatalistic vision that Jess Walter presents in We Live in Water, yet one that in today's America seems all-too-recognizable; no, we may not all live in water, but at one time or another, we have all lived in Spokane."
— San Francisco Chronicle

"For over a year, I've been waiting for a story collection to floor me the way Alan Heathcock did with Volt. The 13 stories of Jess Walter's We Live in Water come close."
— Cleveland Plain Dealer

"Black humor is what we expect from Jess Walter. What is different is that the stories give us a sense of the writer's heart we haven't gotten from the parade of bright novels."
— Newsday

"There's a certain magic that comes with reading a good story. Even one that's not about a magical time…[Walter's] collection is full of tragic characters — the homeless, the drug-addicted and those who have lost everything to gambling debts. But it is not without humor."
— Marketplace.org, The Big Book

"Displays... fearless, unflinching prose in these short stories."
— Bookreporter.com

"…gritty, pitch-perfect collection…Walter wrings enlightenment from dark realities."
— People

"Incrementally, profoundly, brutally, [Walter] pulls back the curtain… We Live in Water is a great collection, in fact, and an important contribution to the literature of our region."
— Portland Mercury

"Vintage Walter…quirky. And fun."
— USA Today