Short Stories by Jesus: The Enigmatic Parables of a Controversial Rabbi (Hardcover)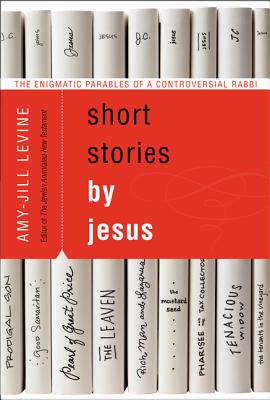 Description
---
The renowned biblical scholar, author of The Misunderstood Jew, and general editor for The Jewish Annotated New Testament interweaves history and spiritual analysis to explore Jesus' most popular teaching parables, exposing their misinterpretations and making them lively and relevant for modern readers.
Jesus was a skilled storyteller and perceptive teacher who used parables from everyday life to effectively convey his message and meaning. Life in first-century Palestine was very different from our world today, and many traditional interpretations of Jesus' stories ignore this disparity and have often allowed anti-Semitism and misogyny to color their perspectives.
In this wise, entertaining, and educational book, Amy-Jill Levine offers a fresh, timely reinterpretation of Jesus' narratives. In Short Stories by Jesus, she analyzes these "problems with parables," taking readers back in time to understand how their original Jewish audience understood them. Levine reveals the parables' connections to first-century economic and agricultural life, social customs and morality, Jewish scriptures and Roman culture. With this revitalized understanding, she interprets these moving stories for the contemporary reader, showing how the parables are not just about Jesus, but are also about us—and when read rightly, still challenge and provoke us two thousand years later.
About the Author
---
Amy-Jill Levine is University Professor of New Testament and Jewish Studies, E. Rhodes and Leona B. Carpenter Professor of New Testament Studies, and Professor of Jewish Studies at Vanderbilt Divinity School and College of Arts and Science in Nashville, Tennessee; Affiliated Professor at the Centre for the Study of Jewish-Christian Relations at Cambridge; and a self-described "Yankee Jewish feminist who teaches in a predominantly Christian divinity school in the buckle of the Bible Belt." She is the author of The Misunderstood Jew, The Meaning of the Bible (coauthored with Douglas Knight), and the editor of The Jewish Annotated New Testament.
Praise For…
---
"As subversive as any parable, this shakes the faithful where we most need to be shaken, showing how close we have come to disarming some of Jesus' most potent teachings. Every new book from Levine startles me with its brilliance and pluck, but this one goes next to my Bible."
— Barbara Brown Taylor, author of Learning to Walk in the Dark

"In this brilliant book Amy-Jill Levine invites her audience to read the parables of Jesus through a Jewish lens. The result is a series of stunning new insights into our religious heritage. Levine, a Jewish New Testament scholar of enormous depth, powerfully illumines both Jesus and the Christian story."
— John Shelby Spong, author of The Fourth Gospel: Tales of a Jewish Mystic

"Jesus's parables have been sanitized, spiritualized, and allegorized for so many generations that it can only be called Good News when another wise Jewish teacher calls a halt. In this wonderfully readable book, not only could Jesus spin a yarn, he could challenge whole world views in the process."
— Dr. Ben Witherington, III, Amos Professor of New Testament for Doctoral Studies, Asbury Theological Seminary

"Levine will change how you think about Jesus and the stories he told. With her characteristic wit and learned, iconoclastic imagination, Levine presses readers of the parables-especially Christian readers-to question their assumptions, curb their biases, and read Jesus's words afresh with ancient eyes. A provocative read."
— Peter Enns, author of The Bible Tells Me So

"This is probably the best book on parables available today: brief, informative, witty, and very interesting. A perfect introduction for the merely curious, but even passionate readers who have lived with these stories for decades will find their eyes and hearts opened by Levine's provocative insights."
— Mark Allan Powell, editor of the HarperCollins Bible Dictionary

"Those who view parables as easy nuggets of feel-good sentiment need to think again. Levine shows how despite their brevity, Jesus's tales have disturbed from the very beginning [and] she shows how the biblical stories' defiance of narrow understandings and application is reason for celebration."
— Publishers Weekly (starred review)

"Amy-Jill Levine offers new translations of the parables, recovering the sense of provocation and challenge they would have presented to their first-century audiences. The Jesus we see here came up with inventive ways to challenge his listeners, and didn't allow them easy answers or room for self-congratulation."
— Boston Globe

"Levine's volume doesn't simply challenge standard readings, it demolishes them. It wittily and carefully and thoroughly and relentlessly rips the parables from our 'all knowing' hands and un-domesticates them and gives them back to us in a form which Jesus himself doubtlessly intended."
— Jim West, Zwinglius Redivivus

"In Short Stories by Jesus, Amy-Jill Levine revisits the parables with an eye to how even these simple and straightforward stories unsettle and challenge."
— Publishers Weekly

"Short Stories by Jesus is a valuable work of criticism that asks us to reimagine Jesus as teacher who is concerned about the lives and the conditions of his followers, not merely in the condition of their souls in an afterlife."
— National Catholic Reporter

"Well crafted and ably supported, Levine's touching and scholarly readings…should be fodder for rich discussion in church groups and also deserve a place on library shelves."
— Library Journal

"You will close the [book's] back cover with far more questions than you dreamed possible. And that's a very good thing. This highly esteemed Bible scholar… clearly loves these short stories by Jesus and wants readers to treasure the mufti-faceted reflections that Jesus intended to provoke in his listeners."
— Read the Spirit

"Levine tackles the more controversial parables Jesus spoke, making an effort to put these stories back in their first-century Jewish setting. If this isn't Levine's best, it's close."
— The Dubious Disciple

"For those who hope to engage the New Testament perceptively . . . you may not agree with all of Levine's conclusions. But you'll never hear a parable again quite so complacently."
— U.S. Catholic

"What made me shudder was discovering that many of us have unwittingly been passing along anti-Jewish stereotypes. Levine recovers a robust sense of what Judaism was and wasn't in Jesus' day, and she does so without chiding . . . totally absorbing."
— Christian Century

"An erudite scholar who writes in an accessible and engaging prose, [Levine] is a wise sculptor who first chips away at the 'complacent anti-Judaism' of traditional interpretations of the parables . . . a remarkably generous book . . . a profound work of mercy."
— The Catholic Worker

"Thought provoking… valuable for exploring the deep roots of faith that Jews and Christians share."
— The Boston Pilot